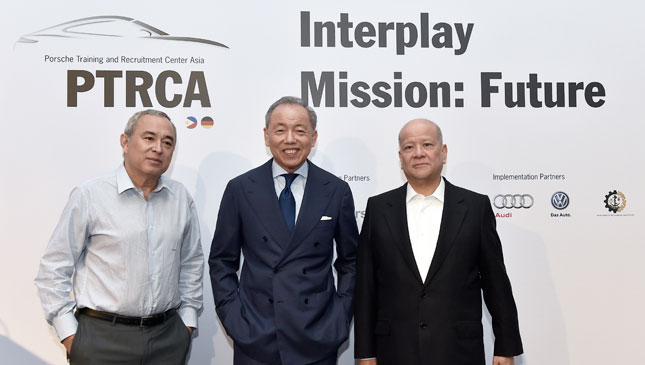 To provide a better life for our underprivileged brethren is what Porsche Training and Recruitment Center Asia (PTRCA) has been striving to do since its inception in 2008. Over the past seven years, it has enriched the lives of over 250 young Filipinos.
In case you didn't know, Porsche doesn't merely sell cars in the Philippines. It runs a training facility in partnership with the Don Bosco Technical Institute that educates young adults in automotive technology and skills training. They undergo both theoretical and practical learning using the advanced Porsche Integrated and Workshop Information System diagnostic tool, under the guidance of accredited technical training managers. In the end, they are hired to work for various Porsche service centers around the world.
So far, PTRCA has sent over 250 young men to some seven countries. Many of these individuals now work in the Middle East as automotive service mechanics. Since these gentlemen will work with some of the most sophisticated engines and electronics around, Porsche wouldn't want just any Juan to tinker with its precious metal. This is why it gets only the best--the graduates of PTRCA, among others. Moreover, Porsche executives speak highly of Filipinos' work ethic and very good command of the English language, which ranks up there on the list of reasons why they choose our countrymen.
Continue reading below ↓
Recommended Videos
PTRCA is now gearing up for the next level. Its new program involves the upgrading of existing facilities at the Don Bosco Technical Institute via a new 6,000sqm building that will house training workshops and seminar rooms. The number of trainees will likewise be increased. From the current 32, this will grow to 120 in 2016, and to an even greater 145 students in 2017.
And these young professionals will be given the chance to expand their horizons as Audi and Volkswagen--Porsche sister companies under the VW Group--will also be recruiting graduates from PTRCA to work in their various service centers in the country and even around the world. Finally, each and every graduate may soon receive certification from the German-Philippine Chamber of Commerce and Industry.
Yes, things are looking up for Porsche and its training-and-recruitment center. But of course, the even bigger winner here is the Filipino, who now has a better shot at making it on the global stage. Salute!