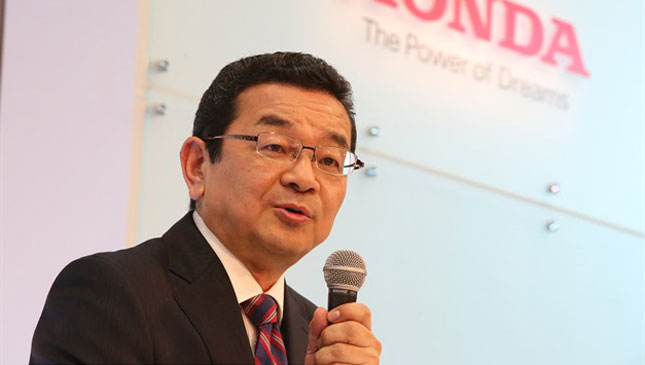 Being the head of a big company usually has its perks. Some assume that car-industry CEOs drive--or are chauffeured in--a luxury car. But such is not the case for Takahiro Hachigo, who recently returned to Japan to step into his new position as Honda Motor Company's president and CEO after having been appointed as the successor of Takanobu Ito.
According to Automotive News, Hachigo-san currently has no car. Quite unusual for a carmaker's head honcho. He has shared with the media that he decided to put on hold his next car purchase because he's waiting for the Civic Type R, which will hit Japanese showrooms this autumn (August to November).
The all-new Civic Type R hot hatch is powered by a new 2.0-liter turbocharged VTEC engine, which produces 305hp and 400Nm, and is mated to a six-speed manual transmission. According to Honda, this hatch can accelerate from 0 to 100kph in only 5.7 seconds and has a top speed of 270kph. It's also currently the fastest FWD car to go around the Nurburgring Nordschleife circuit with a lap time of only seven minutes and 50.63 seconds, beating the Renault Megane RS 275 Trophy-R's lap time by almost four seconds.
If a CEO of a car company is willing to go carless for several months because he has his eyes set on his dream car, you know he's a certified car guy. Hachigo-san shared that he's also excited about the little S660 mid-engine "kei-car" roadster, which recently went on sale in Japan.
ADVERTISEMENT - CONTINUE READING BELOW ↓
The Japanese executive's love of cars and passion for driving were the reasons he joined Honda. And now that he's the big boss, he plans to revive Honda's reputation for innovative engineering, stylish designs, and fun-to-drive cars. In the meantime, he has bought himself a Honda VTR250 motorcycle, which he uses while he waits for the Type R's arrival.
Good luck, Hachigo-san! Before long, you'll be zooming to Honda's headquarters in style.