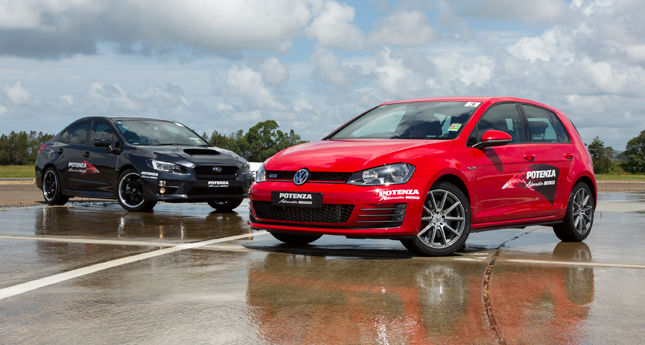 If you're in the market for sporty street tires, you might want to wait until Bridgestone Philippines launches the Potenza Adrenalin RE003 in the country. The product, which is designed for compact sports cars like the Volkswagen Golf GTI, the Subaru WRX, the Mazda 3 and the Mitsubishi Lancer Evolution, is the Japanese tire brand's newest offering.
It will replace the RE002, which is the same tire used in the Toyota Vios Cup. A public launch of the new tire is slated for the third leg of the one-make race series this year.
The biggest demand for the Potenza line comes from Australia and New Zealand. However, according to Bridgestone's director of international sales, Minoru Kuroki, the Philippines is also a good market for this kind of tire. While variants like the Ecopia and the Turanza are also available here, the Potenza seems to be the tire of choice in the country, especially among sporty drivers.
Currently, Philippine Allied Enterprises Corporation, the official distributor of Bridgestone in our market, brings in about 1,200 Potenza tires every month. Kuroki says that Bridgestone is planning to increase the volume of the RE003 allocated for the Philippines by 20% compared to its predecessor.
We've tried the RE003 on a track in Brisbane, Australia. It was fitted on a WRX and a Golf GTI. After testing it against competitor tires as well as the RE002 on specially designed courses--which included a skidpad, a slalom and a chicane--we have to say that the RE003 is a capable and evolved tire.
Continue reading below ↓
Recommended Videos
While the RE002 still did quite well in the tests, the RE003 impressed us more by maintaining grip in both wet and dry driving conditions. It also allowed for sharp, responsive handling without sacrificing comfort, and it performed spectacularly in corners. Whether you're on the track or on normal roads, where efficient tires can spell the difference between getting into an accident and preventing one, these are all good tire attributes to have.
But here's the best news: Kuroki says that the RE003 will be priced the same as the outgoing RE002. Yep, there will be no price increase for this new Bridgestone tire. So, if you're planning on getting new tires for your car, we suggest you wait until the RE003 arrives this coming June.