Just how much does a car's color mean to its owner? If the latest numbers from PPG Industries are any indication, a vehicle's paint job plays a significant role in deciding whether a car is bought or not.
The global paint supplier's latest "Automotive Color Trends" statistics indicate that almost 60% of car shoppers consider color a major factor when purchasing a vehicle. So it makes sense that carmakers would choose to paint their products in shades that appeal to the widest variety of tastes. As such, manufacturers continue to sell the majority of their cars in conservative colors.
With that in mind, it comes as no surprise that white is the top color of choice among car owners. According to the company's Global Color Popularity index for 2015, white accounted for 35% of 2015-model-year vehicles across the globe. It was followed by black (17%), silver (12%), gray (11%) and natural (8%). As for eye-catching colors, red was the top choice with 8%, followed by blue (7%) and green (1%). All other shades accounted for the remaining 1%.
Here's a breakdown of those statistics per region. And check out our easy-to-digest infographic at the bottom.
ASIA-PACIFIC
* White - 44%
* Black - 16%
* Natural - 10%
* Silver - 10%
* Gray - 7%
EUROPE
* White - 31%
* Black - 18%
* Gray - 16%
* Silver - 12%
* Blue - 9%
NORTH AMERICA
* White - 23%
* Black - 19%
* Gray - 17%
* Silver - 15%
* Red - 10%
* Blue - 8%
SOUTH AMERICA
ADVERTISEMENT - CONTINUE READING BELOW ↓
* White - 36%
* Silver - 31%
* Black - 11%
* Gray - 9%
* Red - 9%
* Blue - 2.5%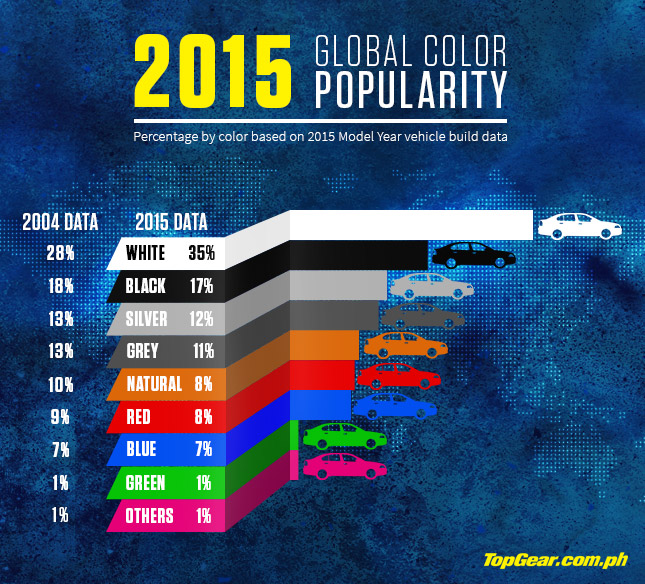 Infographic by Faye Lacsamana