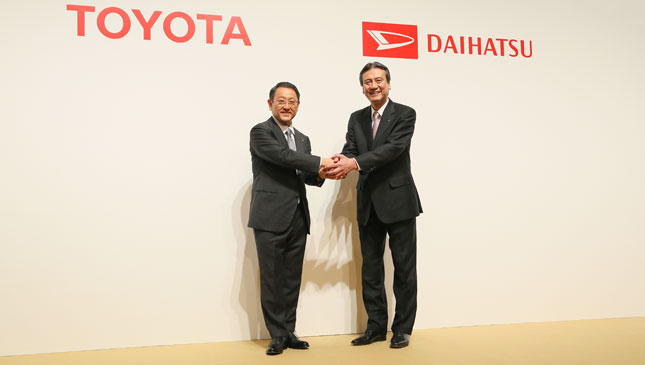 Alliances in the automotive industry are nothing new. Examples include Renault-Nissan, Fiat-Chrysler, and Tata buying Jaguar Land Rover. Now, you can add Toyota and Daihatsu to this esteemed list.
In a joint press conference, Toyota president Akio Toyoda and Daihatsu president Masanori Mitsui made the monumental announcement before members of the media. While it is no secret that Daihatsu has long been a subsidiary of Toyota, the former will now be wholly owned by the latter. So what does this mean for both companies and the auto industry as a whole?
We all know Toyota to be the world's largest carmaker, with vast resources and a proven track record. Daihatsu, on the other hand, has a reputation for churning out some of the coolest small vehicles from the Land of the Rising Sun. This marriage will strengthen both companies' growth in the global market, by utilizing their respective core competencies, to come up with quality products at competitive prices.
In plain English, Toyota will tap Daihatsu's know-how in the small car business to bring to market its own unique models in countries that have a strong demand for such vehicles. With the microcar coming into its own, Toyota sees this alliance as an opportunity to offer a new product much faster and more affordable to many.
Continue reading below ↓
Recommended Videos
On the other hand, Daihatsu has always wanted to grow in the global arena. While it has been successful in markets like Indonesia, it is like any firm that wants to make it big on the world stage. Moreover, it is aware that in order to survive, it must embrace future technologies like alternative fuels and autonomous mobility. Unfortunately, these require resources that it doesn't exactly have. This is where Toyota can help. In Japan, Toyota will take care of sales and infrastructure funding for their respective operations.
As mentioned, the two carmakers have had joint ventures in the past. In fact, they have been working closely together since 1967, and have come out with such models as the Toyota Avanza/Daihatsu Xenia and the Toyota Wigo/Daihatsu Ayla. Apart from these rebadged products, people might remember Daihatsu through nameplates like the Feroza and Hi-Jet that came out in the late '80s. But with this new development, we might just see more exciting products from both carmakers real soon.