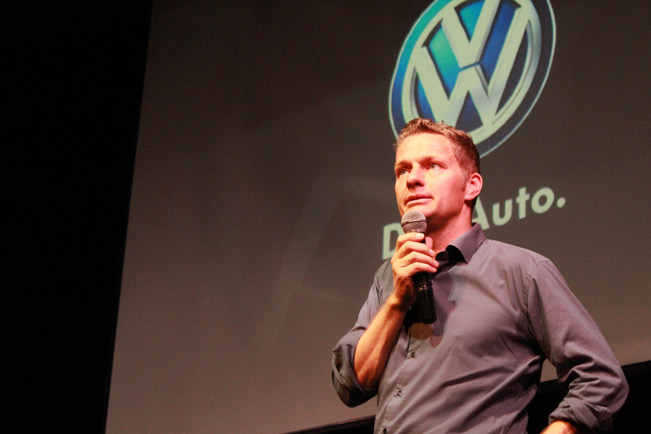 By now, most of you know that Volkswagen Philippines invited Simon Loasby, the design director of Volkswagen Group China, to speak and be one of the highlights during its Philippine International Motor Show presentation last week.
A day before the start of PIMS--on September 17, to be exact--Loasby made a detour to the College of Saint Benilde to conduct a seminar for almost 400 university students. His audience was composed of students not just from Benilde, but from other schools like De La Salle University, University of the Philippines and Mapua Institute of Technology. Thanks to Volkswagen Philippines, we were lucky to score a seat during Loasby's talk, where the former designer of Bentley and Rolls-Royce talked about the creativity process involved in car design, and shared some of his thoughts and experiences.
At the end of the intimate seminar, eager students swarmed the international design honcho for photos, autographs and advice, while Loasby enthusiastically accommodated as many students as he could.
So, how do you make it to international car-designer status? Here are nuggets of wisdom from one of Volkswagen's most creative minds:
On creativity
* Look around. Observe what's going on.
* Don't accept "no" for an answer, and get out of your comfort zone. Take every opportunity to open a door.
Continue reading below ↓
Recommended Videos
* Look at the positives rather than the negatives, if you want to get into designing, understand that 99% of the stuff that you do won't ever go to production. You have to get psychologically ready for the fact that most of what you do won't be chosen.
On understanding your customer
* Look for the signals, details, graphics, architecture and the extra element in all of them.
* Luxury doesn't need to be in-your-face. Luxury can be understated.
* Research the market.
On the design basics
* Remember proportion, balance, color and trim.
* Be critical of your previous designs. Know that while a design may be outdated, it's still a relevant part of the story. Improvement is continuous.
* You need to know what your brand stands for, and you have to communicate its values.
On running out of ideas
* You just have to get out. Go to galleries, exhibitions and events.
* Travel a lot. Get inspired by different environments and cultures.
Photos by Elaine Lara