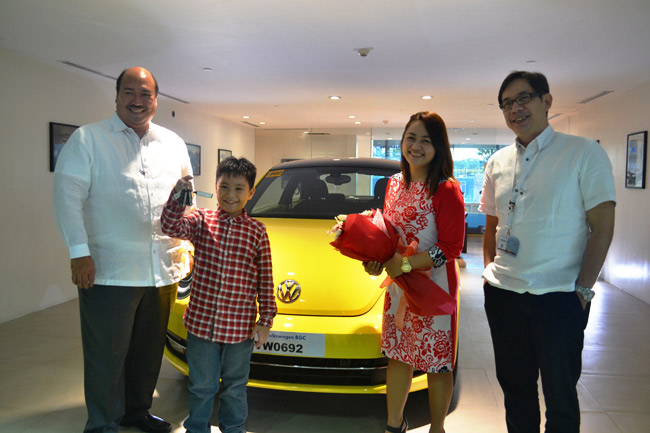 During Volkswagen Philippines' grand launch last year, the festivities continued into the weekend with a "People's Car Celebration" at Greenbelt Park. VW held a raffle for the general public. The winner would bring home not a widescreen TV or an iPad, but a brand-new 2014 Beetle.
We reported that the lucky winner turned out to be eight-year-old Cherub Nikolai Bedaño. To clarify an earlier story we published, that was only the announcement for Cherub's win. It clearly took some time from the moment his name was chosen to when the unit was actually turned over--the Beetle model was only formally launched in April, after all. But a car like this is definitely worth waiting for.
Early this month, Cherub and his mom, Bella Bedaño, picked up a yellow Beetle 1.4 TSI DSG worth P1.79 million at the Volkswagen BGC showroom. JP Orbeta, president of official Volkswagen importer Automobile Central Enterprise, and Tito Solomon, general manager of the Volkswagen BGC showroom, were present during the simple turnover rites.
ADVERTISEMENT - CONTINUE READING BELOW ↓
Cherub was clearly ecstatic over his prize, looking like a kid who won a life-size die-cast car. Volkswagen Philippines seemed equally pleased with the outcome of its raffle.
"We think that a young eight-year-old winning the 21st-century Volkswagen Beetle is very symbolic," said Orbeta. "The boy certainly represents aspiration and optimism."
One thing is certain: Cherub will have the coolest sundo at school.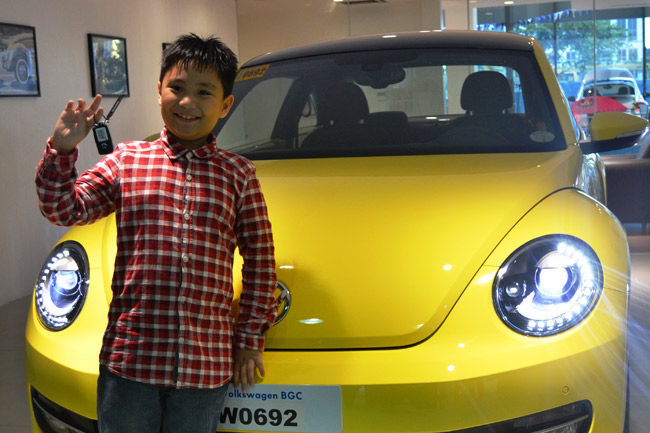 ADVERTISEMENT - CONTINUE READING BELOW ↓
Recommended Videos