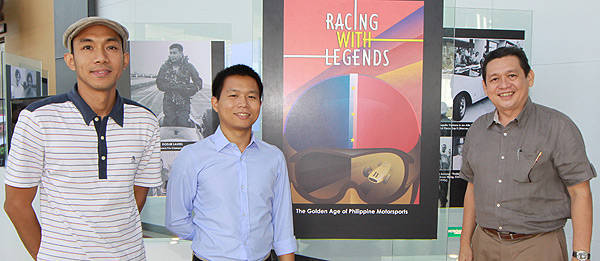 Martin Galan is a businessman who, from the late '70s to the early '80s, was part of the Philippine rally scene. According to Galan, one of the highlights of his life was having been taught how to properly drive a rally car by local racing legend Pocholo Ramirez for one entire day.
"I was just 20 or 21 then," recalled Galan. "Imagine, you alone with Pocholo Ramirez in your rally car and he's slapping your hand, saying, 'Don't hold the steering wheel too tight' or 'Steer with your feet'."
With Ramirez's passing in 2009 followed by his son Kookie's demise a year later--as well as other local motorsport luminaries--Galan realized that their stories would soon be forgotten. A business trip to Singapore firmly cemented Galan's desire to come up with a documentary that chronicled the Philippine motorsports scene.
"I was in my hotel watching TV when a documentary came on about the early years of Singapore motor racing in the '60s," shared Galan. "There was this gentleman who modified the Mini Coopers of Dodie Ayuyao and Paquito Ventura. He came on and said, 'The last grand prix here, I had just finished setting up the car of Dodjie Laurel of the Philippines.' How many times can you hear a Singaporean talk with such reverence of a Filipino? That was when I realized that the story had to be told."
Continue reading below ↓
Recommended Videos
The initial concept was to simply produce a video archive with the help of independent filmmaker Steven Flor, whom Galan met through the local vintage-racing circle, and sound engineer Mark Laccay. Galan first started with his own collection of videos and photographs, and since he was part of the scene, it wasn't hard for him to borrow those of his friends.
"Since I was there before, it was easy and they lent me all their stuff," said Galan. "The problem was they were all in Betamax, VHS and Super 8 formats, so I had to transfer and digitize all of them, which was an expensive chore."
As Galan and Flor began to put together what would become the documentary, the decision was made to make it available to the public. This way, according to Galan, they would be able to tell the story of what the Philippine motorsports scene was like back then so that today's drivers "would have a good perspective of what they came from, to live up to their heritage, and to push them to achieve what the guys ahead of them had achieved."
As for the Racing With Legends documentary, Galan plans to put it on a road show first to clubs and at educational symposiums before releasing it to the public with a limited production of just 500 copies and with extra footage that won't be seen during the public run. After the DVD comes out, Galan is also planning to put its contents out in segments on YouTube.
Pre-orders for the DVD can be placed through artisteconnect.com.