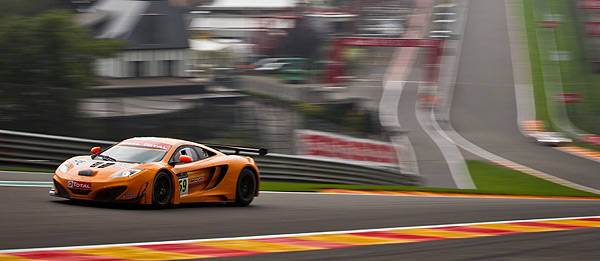 Despite losing one of its three cars to a racing incident and another to a small fire, McLaren GT has called its development program of the MP4-12C GT3 at the Total 24 Hours of Spa a success.

According to McLaren GT, the impressive lap times, the successful integration of a McLaren GT customer into the team at Spa, and the safety of McLaren GT driver and project manager Andrew Kirkaldy following a high-speed collision are positive results for the 12C GT3's debut 24-hour endurance race.
Of the three cars entered by McLaren GT, car number 60--ran in partnership with McLaren customer team VonRyan Racing--proved the most successful as it ran an outstanding lap time of two minutes, 23.214 seconds on the race's 256th lap, finished 25th overall and 11th in the Pro-Am Cup class.
"The performance of the 12C GT3 and its drivers in car 60 was equally pleasing. Feedback from the team's engineers and drivers indicates that the 12C GT3 is meeting its reliability and driveability targets," said McLaren GT executive and McLaren Automotive chief test driver Chris Goodwin.
Kirkaldy's number 59 car was hit by a competitor, pushing the carbon-based 12C GT3 into the wall at turn one. Following a precautionary scan at a nearby hospital, Kirkaldy was cleared of any serious injury while the damaged car was placed in the circuit's Parc Ferme before it was released to McLaren GT.
Continue reading below ↓
Recommended Videos
"I was obviously disappointed that one of our cars was forced out of the race so early. Our performance has been strong in development tests and our debut race at Spa in the British GT Championship showed the car is technically reliable," Kirkaldy said. "I've had the opportunity to review the incident and the impact was clearly significant. If anything positive can be drawn, it's that we are delighted to be using the 12C road car's carbon 'MonoCell' chassis in our race car. It proved here that it is an incredibly robust safety cell for the driver."
Car number 58 was retired by the team following a small fire that, according to the team, was unrelated to any major mechanical component. McLaren, though, is already investigating the cause of the incident.
"One advantage of taking a season to develop a new race car through a combination of private tests and competitive races like Spa 24, is that we are able to review issues like this, and develop the car to prevent the same issues repeating," said Goodwin. "We remain committed to delivering a reliable race car with great performance to our customers next year."
McLaren GT will continue to develop the 12C GT3 throughout the 2011 racing season by entering the car at the Blancpain Endurance Series at Magny-Cours and Silverstone later this year before it starts the delivery of 20 new 12C GT3 cars to private teams for the 2012 racing season.