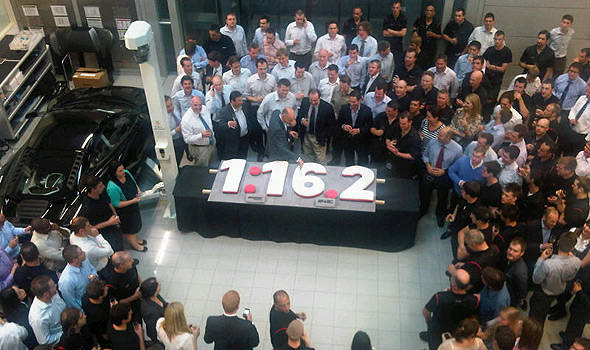 McLaren may have missed out on a podium finish at the British Grand Prix on July 10 but the British carmaker celebrated at the end of the day nonetheless as its MP4-12C registered the second fastest time around the Top Gear test track.
With a time of one minute and 16.2 seconds, the McLaren MP4-12C beat more expensive hypercars around the Lotus-designed track like the Bugatti Veyron Super Sport and the Koenigsegg CCX. More importantly, however, is that it trounced its direct competitor, the Ferrari 458 Italia--which covered the track in one minute and 19.1 seconds in 2010.
The car that remains at the top of Top Gear's Power Board is the Ariel Atom 500, which in January 2011, set a time of one minute and 15.1 seconds to become the fastest street-legal car to go around the track.
To celebrate the feat, McLaren boss Ron Dennis cut a sponge cake that depicted the MP4-12C's time.
Watch the video below if you want to see how the MP4-12C matches up against the 458 Italia or just go forward to the nine minutes-and-39 seconds mark if you simply want to see the car set its blistering pace around the track.
Photo from Vodafone McLaren Mercedes' official Twitter page
Continue reading below ↓
Recommended Videos