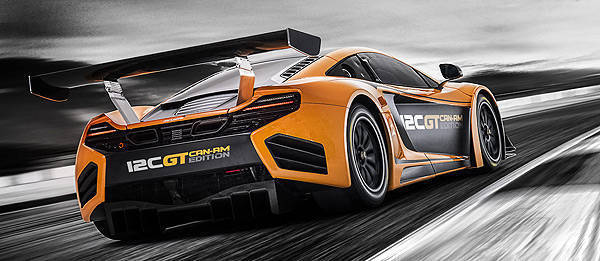 The McLaren 12C Can-Am Edition, which was unveiled at the Pebble Beach Concours d'Elegance in August, won't remain a one-off concept any longer. McLaren GT, the race-car manufacturing arm of McLaren Automotive, has confirmed that it will produce a limited number of the car as the track-focused 12C GT Can-Am Edition.
Designed as the "ultimate track car," the 12C GT Can-Am Edition will not be subject to the racing regulations of the 12C GT3 race car that it is based on. Powered by an unrestricted version of the 12C's 3.8-liter twin-turbo V8 engine and with its unique engine calibration and optimized cooling system, the power output of the 12C GT Can-Am Edition is 630hp, making it the most powerful 12C produced to date.
The car's exterior appearance is dominated by the large carbon fiber rear wing. Honed by McLaren Racing using Formula 1 technology and simulation, it improves the car's downforce by 30 percent and forms part of a unique high-downforce aerodynamic package. These include door mirror mounts and covers, engine cover vents, side radiator intake vanes, sill covers, and badges. Completing the exterior look are black satin-finished forged lightweight racing alloy wheels shod with Pirelli racing tires.
Inside, the limited production version will retain all of the features of the one-off concept, from full FIA-approved race-specification roll cage, two black race seats complete with full six-point harnesses, and a unique McLaren GT steering wheel that has been carried over from the 12C GT3 race car and whose shape and grip are derived from the McLaren MP4-24 Formula 1 car. An integrated air-conditioning system is also incorporated into the bespoke lightweight carbon-fiber dashboard, adding a touch of racer comfort to the car.
Continue reading below ↓
Recommended Videos
"The 12C Can-Am Edition concept shown at Pebble Beach earlier this year was purely that, a one-off design study," said McLaren GT managing director Andrew Kirkaldy. "However, the reaction and response following the unveiling was remarkable. It is a real testament to the performance and results of the McLaren GT customer teams this year, still only in the debut competitive season, that there is such a strong demand for this type of track-day special."
According to McLaren, production of the 12C GT Can-Am Edition will be strictly limited to "no more than 30 cars, costing £375,000" (P24.57 million) with its production commencing in March 2013.
[gallery]1318[gallery]