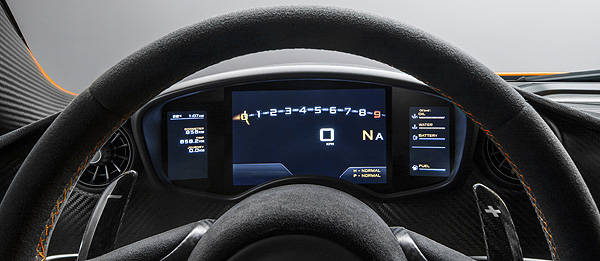 After giving us a peek at what its latest hypercar's instrument panel looks like, McLaren Automotive is now letting us see the McLaren P1's interior in all its carbon-fiber glory.
According to McLaren, the P1's interior offers the driver and passenger "a cocooning, efficiently packaged, comfortable cabin," with its fighter jet-like cockpit, complete with a glass canopy and a deep and wide windscreen to optimize visibility.
Much like the exterior, carbon fiber is extensively used in the P1's interior, specifically for the dashboard, the floor, the headlining, the doors, the rockers, and the central control unit, which is shaped from a single piece of the lightweight material to further optimize weight.
The attention to detail is such that the top layer of resin has been removed, leaving the surface non-lacquered not only for a more natural look but to also shave off 1.5kg.
The amount of trim covering the cabin has been minimized, leaving as many parts as exposed as possible. Sound-deadening material is also absent from the P1 to optimize weight-saving even further. Carpeting is optional, and even that is fitted with a special lightweight backing.
Since light weight is the P1's priority, its switchgear is kept to a minimum. And yet the car retains luxury features like full climate control, satellite navigation, and a bespoke sound system developed with Meridian.