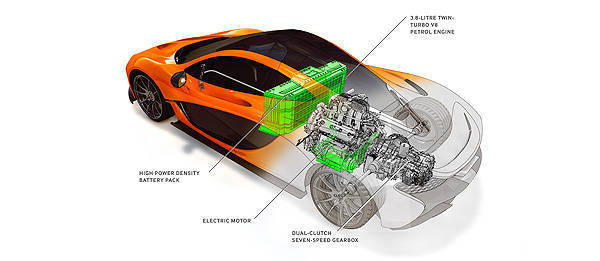 After giving us a glimpse of the P1's largely carbon-fiber exterior and interior, McLaren Automotive has finally revealed the powertrain which its latest hypercar will be using. And it's a hybrid gasoline-electric motor paired with a seven-speed, dual-clutch gearbox.
The mid-mounted 3.8-liter twin-turbo V8 engine that will power the P1 is an upgraded version of the mill that powers the MP4-12C and produces 727hp and 720Nm.
A unique feature of the P1's engine is that its engine block has a unique casting that incorporates the lightweight electric motor developed by McLaren Electronics. With an output of 177hp and 260Nm of torque, the electric motor greatly increases the P1's throttle response from a standstill.
According to McLaren, another benefit of the electric motor is that it can provide faster upshifts "through the application of instant negative torque at the point of shift," making the engine revs drop as quickly and efficiently as possible to the required engine speed needed for the upshift.
ADVERTISEMENT - CONTINUE READING BELOW ↓
The P1's electric motor also recovers energy that would otherwise be lost to the brakes, and saves it to the battery. Furthermore, the P1 is also equipped with a plug-in charger that can recharge the battery, from empty, in only two hours. While the plug-in charger can be stored in the luggage compartment, it can also be stored outside the car--like in the garage or the pits--to save weight.
Maximum power for the P1 comes when both the gasoline engine and the electric motor are working together. In electric mode, however, the P1 becomes most economical with a range of more than 10km--enough for most city journeys. The P1 is also practically silent in electric mode while producing zero tail pipe emissions.
In addition to the gasoline engine and the electric motor, McLaren's Instant Power Assist System provides up to 177hp. In developing the technology for the P1, power delivery was prioritized over energy storage. And this was achieved via a groundbreaking, lightweight battery pack that offers greater power density than any other automotive battery pack on sale today.
The P1 also utilizes a Drag Reduction System that's similar to the technology used in F1 cars, with its wing that reduces its angle by 23 percent to lower drag. According to McLaren, the system immediately deactivates when the button is released or if the driver touches the brake pedal.
Impressed?