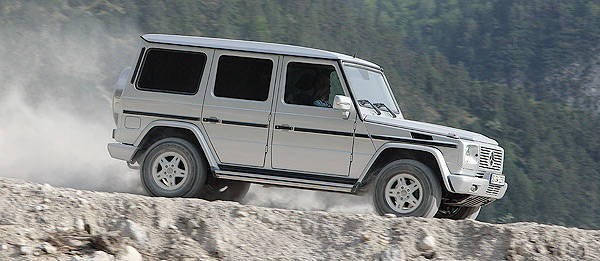 If ever Germany decides to conquer Australia for whatever reason, the German Army might not want to do it with the Mercedes-Benz G-Wagen as six of the seven sport-utility vehicles have broken down in a case of a publicity stunt gone wrong.
According to Australian rural newspaper The Land, the corrugated surface along one 70-kilometer stretch of the outback known as the Canning Stock Route severely damaged the shock absorbers on six of the seven vehicles as Mercedes-Benz attempted to make the first full crossing of the 1,900-kilometer route through Australia's western outback by a car manufacturer. Of the six vehicles, five are civilian versions of the G-Wagen and one is a military-spec unit.
Although all seven G-Wagens have managed to make it to their next stop, the German carmaker has reportedly temporarily stopped the trek to deliver five new sets of shock absorbers, four in each set, to a remote airstrip nearest to the campsite, which is roughly 50 kilometers away.
"The Canning Stock Route is in very bad condition in certain areas and has caused suspension damage to most vehicles disembarking north of Well 33 over the past 48 hours," said Mercedes-Benz Australia's spokesperson David McCarthy. "We have reduced the pace we are traveling at to ensure the vehicles remain drivable, which all seven of them currently are."
Continue reading below ↓
Recommended Videos
If the G-Wagen can't make it through the Australian outback without breaking down, what SUV do you think would finish the route unscathed or at least still fully functional?