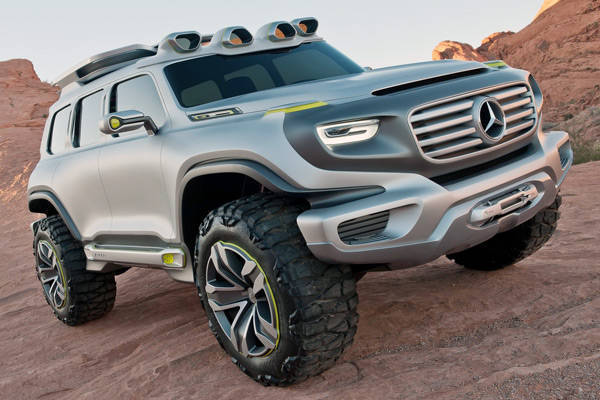 The upcoming Los Angeles Auto Show will feature the creations of the participants of the show's Design Challenge. This year, the task is to visualize the "Highway Patrol Vehicle in 2025." Those who entered the contest are BMW, General Motors, Honda, Mercedes-Benz and Subaru. What you see here is Mercedes-Benz's entry, which the German carmaker calls the Ener-G-Force. Yes, it sounds very sci-fi.
According to Mercedes-Benz, the concept vehicle is an evolution of the classic G-Class.
"The Ener-G-Force is the vision of an off-roader that, while reflecting tomorrow's adventures, also invokes the genes of the Mercedes-Benz off-road icon, the G model," says Gorden Wagener, director of design at Mercedes-Benz. "Modern and cool, it could also be a clue about a new beginning for the off-road design idiom of Mercedes-Benz."
Among the features of this futuristic vehicle are 20-inch rims that give the SUV a powerful, towering stance; a slightly off-center pull-out rear compartment that can hold a wide variety of equipment; a roof with tanks that store recycled water for conversion to electricity; an operating range of about 800km; four wheel-hub motors, whose output for each individual wheel is adapted precisely to the respective terrain by high-performance electronics; a "Terra-Scan" 360-degree topography scanner on the roof that permanently scans the surroundings and uses the results to adjust the spring and damping rates; and illuminating side skirts that indicate the operating and charge status of the energy packs.
Continue reading below ↓
Recommended Videos
Do you like the design concept? As for us, all we can say is: Good luck to the criminals in 2025.