Mazda
Owning a Mazda comes in a true Zoom-Zoom fashion this January as Mazda Philippines offers brand-new vehicles for as low as as P9,999 a month.
For a 50 percent down-payment, one can take home a 1.6-liter Mazda 3 S with the 60-month amortization at P9,999. The Mazda 6 is available at just P18,999 per month also for a 50-percent cash-out under a 60-month payment term. The BT-50 2.5-liter 4x2 or 3-liter 4x4 is also available under the same payment scheme at P11,299 and P15,799 per month, respectively.
Buyers who prefer getting a new Mazda with the lowest all-in down-payment can get the 1.6-liter Mazda 3 S at an initial cash-out of P99,000, the Mazda 6 at P279,000, and the BT-50 in either 2.5-liter 4x2 or 3-liter 4x4 variant at just P149,000. The all-in deal includes chattel mortgage, LTO registration and comprehensive insurance.
Mercedes-Benz
CATS Motors makes Mercedes-Benz's most affordable sports car in the market even more accessible.
The country's official Mercedes-Benz distributor is offering the two-door, retractable hardtop SLK-series at zero-percent interest.
For the entry-level SLK 200, a down-payment of either 35-, 40-, or 45-percent is required while for the SLK 350, the same rates follow with the additional option of a 55-percent initial cash-out.
Continue reading below ↓
Recommended Videos
Promo runs until January 31.
Toyota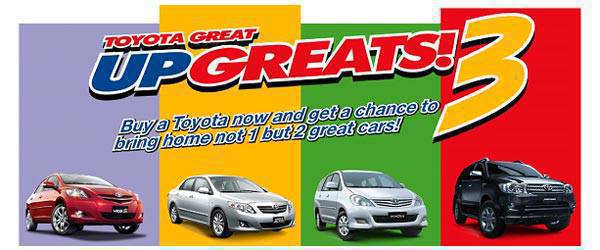 Toyota Motor Philippines offers two new promos to kick off the year.
In UpGreats! 3, buyers of a new Toyota vehicle get a chance to take home not one but two great cars--with the prize being a bigger, higher-spec'd model of their purchase. This means a Toyota Vios buyer could win an Altis, an Altis buyer could take home a Camry, an Innova buyer stands to win a Fortuner, and a Fortuner buyer could win a Previa.
Toyota Philippines also continues to offer its Savings Spree promo for Toyota Vios and Toyota Innova buyers. Savings Spree comes in three options: pay low, pay light and pay cash.
In "pay low," buyers who avail of Toyota Financial Services' lease-to-own plan can take home the Toyota Vios 1.3 E variant for a down-payment of P65,000 or the gasoline-fed Innova J variant for a down-payment of P79,300. The deal includes comprehensive insurance, LTO registration, and chattel mortgage fee.
In "pay light," Toyota Philippines offers the Vios 1.3 E variant for a monthly payment of P6,800, and the gasoline-powered Innova J at P8,200 for 72 months after a 50-percent down-payment.
In "pay cash," buyers of the Vios 1.5 G variant and the diesel-fueled Innova variants get savings of up to P30,000.
Toyota Philippines' UpGreats! 3 promo runs until February 28 while the Savings Spree promo only until January 31.
Click here to check out other promos from car manufacturers this month.