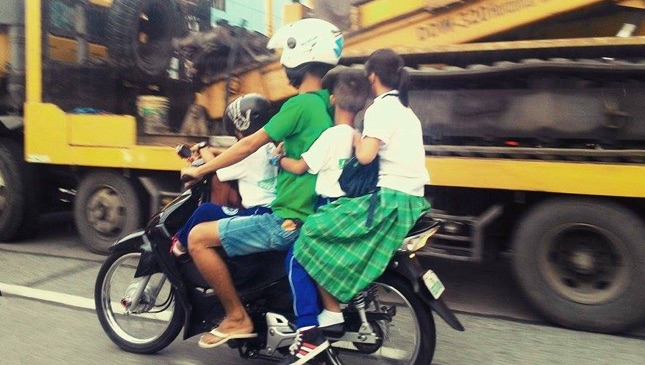 The loudest buzz in the motorcycle community right now is Republic Act No. 10666, which President Aquino signed very recently. Officially, it is known as the "Children's Safety on Motorcycles Act of 2015." According to the act's announcement, "the State shall pursue a more proactive and preventive approach to secure the safety of passengers, especially children, by regulating the operation of motorcycles along roads and highways."
So now, the question is: Can small kids still ride on motorcycles or not?
This is what the new law says (in italics):
It shall be unlawful for any person to drive a two-wheeled motorcycle with a child on-board on public roads where there is heavy volume of vehicles, there is a high density of fast moving vehicles, or where a speed limit of more than 60kph is imposed, unless:
(a) The child passenger can comfortably reach his/her feet on the standard foot pegs of the motorcycle;
(b) The child's arms can reach around and grasp the waist of the motorcycle rider; and
(c) The child is wearing a standard protective helmet referred to under Republic Act No. 10054, otherwise known the "Motorcycle Helmet Act of 2009."
Exception - Notwithstanding the prohibition provided in the preceding section, this Act shall not apply to cases where the child to be transported requires immediate medical attention.
Continue reading below ↓
Recommended Videos
The answer, then, to the question is: Yes, a child can still ride a motorcycle in the Philippines provided the child is tall enough to reach the foot pegs, can wrap his/her arms around the waist of the driver, and is wearing a protective helmet. And also if the child needs to be rushed to the hospital.
Violators of this new law will be penalized accordingly:
Penalties - Any person who operates a motorcycle in violation of this Act shall be fined with an amount of P3,000 for the first offense; P5,000 for the second offense; and P10,000 for the third and succeeding offenses. Moreover, for the third offense, the driver's license of the offender shall be suspended for a period of one month. Violation of these provisions beyond the third time shall result to automatic revocation of the offender's driver's license.
There you go.
Photo from Chat Naval-Grafilo