So you think that you can get away with using your mobile gadget while driving? Well, guess again. Electronic eyes are watching you.
We all know that no-contact apprehension has been in effect for some time now, and we've covered the Anti-Distracted Driving Act (ADDA) extensively as well, so there's really no excuse for breaking the law. So if you still mess around with your smartphone while driving—crawling in traffic or waiting at stoplights included—maybe this story will finally make you stop. 
One motorist shared a violation ticket that was mailed to his house. In it you will see a photo of the exact instance when he was caught using his phone, and where it happened. In this case, it was along Quirino Highway in Parañaque. The actual traffic ticket is included as well, with instructions to pay the fine at any Metrobank branch.
OTHER STORIES ON NO-CONTACT APPREHENSION:
Everything you need to know about Quezon City's no-contact apprehension program
Quick guide: 15 Quezon City intersections with no-contact apprehension cameras
ADVERTISEMENT - CONTINUE READING BELOW ↓
The fine print says that the ticket can be contested, but if the fine isn't paid, you will be charged for it the next time you register your car. Also note that this violation happened last year. The letter only arrived the other day. Better late than never?
The fines for violating the ADDA are: P5,000 for the first offense, P10,000 for the second offense, P15,000 and a three-month driver's license suspension for the third offense, and a P20,000 fine and revocation of the driver's license for the fourth offense. Ouch.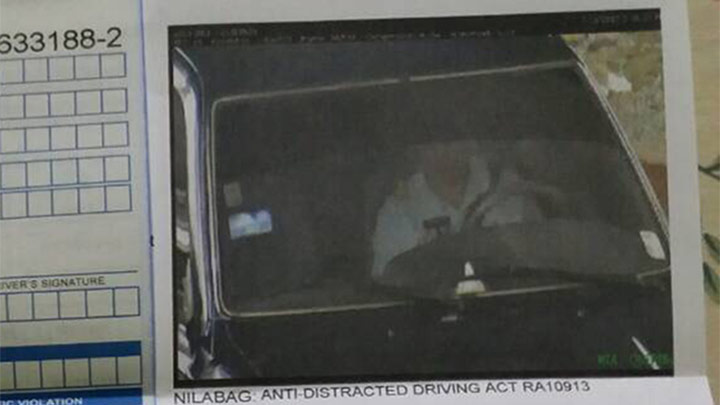 ADVERTISEMENT - CONTINUE READING BELOW ↓
Recommended Videos
Look closely at the photo and you will see that the cameras have been aimed in such a way that pretty much everything can be seen in the cabin area up front, especially where your hands are. We think that the kind of lens that is used has something to do with this, too. We also heard that these cameras can get clear images at night. No word about the effectivity of the equipment against heavy tints, though.
Don't be the guy that causes an accident because of not paying attention to the road ahead. We really don't need a law for this kind of thing. But if you need to be reminded, this is proof that glancing at your phone while driving will cost you big bucks when you are caught. And there's a pretty good chance that you will be.