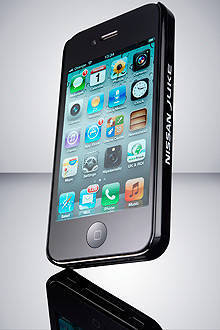 Nissan is bringing one of its automotive innovations to the tech world as the Japanese carmaker is applying its self-healing paint finish to create the Nissan Scratch Shield iPhone case.
"We like to think laterally by taking the great innovations we've got from an automotive point of view, and looking at how they could be applied to improve everyday issues. The Scratch Shield iPhone case is a great example of us taking a Nissan automotive technology that has had a huge impact for our customers, and then shifting the boundaries to apply it to another everyday product," said Bob Laishley, overseas program director for business development for Nissan Europe.
The Nissan Scratch Shield iPhone case features the carmaker's pioneering self-healing paint finish, a world first in paint technology developed in 2005 by Nissan in collaboration with University of Tokyo and Advanced Softmaterials Inc. Initially designed for automotive use and already used on the Nissan Murano, 370Z and X-Trail along with the Infiniti range of products, the Scratch Shield paint finish is now being tried for the first time on a non-automotive product in Europe with the Nissan Scratch Shield iPhone case.
The case has three key benefits: the highly flexible and elastic properties of the Scratch Shield paint technology allow fine scratches to quickly mend themselves; its tactile gel-like surface is more scratch-resistant than conventional paint and is easier to grip; and the case itself is made of ABS plastic--a high-grade substance widely used in the automotive industry that is more rigid and robust than other plastics. The outer 'paint' is also made from polyrotaxane which, according to the carmaker, has a chemical structure that, when damaged in the form of a fine scratch, "is able to react to change back to its original shape and fill the gap--'healing' the blemish."
Continue reading below ↓
Recommended Videos
Nissan added that an initial batch of prototypes of the innovative Scratch Shield iPhone cases for the iPhone 4 and iPhone 4S has been produced by Nissan for beta testing with selected journalists and customers. If the demand for the Scratch Shield iPhone case proves strong, Nissan plans to make the cases commercially available later this year.