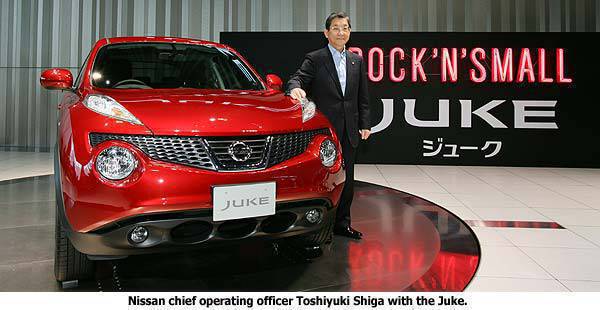 After appearances in several major international auto shows to tease the global market, the Nissan Juke has finally made it to showrooms for actual sale-in Japan, at least.
Nissan Motor Co. Ltd.'s unveiling of the Juke officially signaled its entry into a new niche of vehicles--the compact sports crossover. After its launch in Japan, the Juke is expected to hit other automotive markets.
All-around visibility in the Juke is impressive as its raked front pillars allow the use of a windshield that's much larger for a vehicle its size. Its sloped rear roofline, when combined with its muscular haunches, gives the Juke a tough yet sporty look while the rear door handles that are subtly hidden in the rear pillars mimic that of a two-door sports car. The sports-car-look is taken even further as its sleek, boomerang-like rear combination lights echo that of Nissan's iconic Z sports cars.
Continue reading below ↓
Recommended Videos
The most distinctive feature of the Juke, of course, is its unique headlamps with the large, rounded lights mounted low in the nose while its thin, high-mounted auxiliary lights give it a rally car-inspired look.
Powering the Juke is an improved 1.5-liter HR15DE engine that promises better fuel efficiency and improved torque at low and medium speeds, with a power output of 112hp and 150Nm of torque. As a world's first, it has a mass-produced dual injector system that sprays fuel into the cylinders finer and more closely targeted for a more efficient and complete combustion.
The Juke also has an Xtronic CVT transmission equipped with a two-speed sub-gearbox system aimed at improving its gear ratio 20 percent over a conventional CVT system. This also translates into better acceleration, good response and a quieter operation even at high speeds.
Nissan said a 1.6-liter MR16DDT mill will be offered with the Juke in the future and it will pack a compact turbocharger that provides good fuel efficiency while churning out power equivalent to that of a much larger 2.5-liter engine. A two-wheel drive and a four-wheel variant will be available with this 1.6-liter engine, with the 4WD variant to be equipped with Nissan's All Mode 4x4i system.
Do you think Nissan has a market for the Juke here?