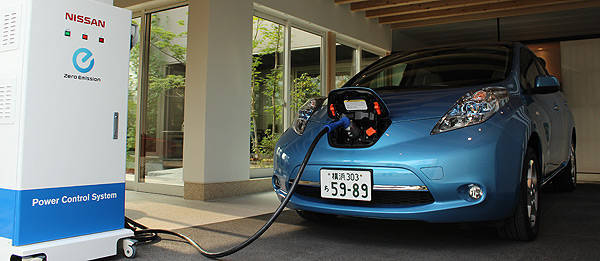 We all know that if you own an electric car, you're likely to recharge its batteries at your home's power outlet. Now, you can do it the other way around and use your electric car to power your home--but only if you own a Nissan Leaf.
Nissan has just unveiled a system that allows electricity stored in the Leaf's lithium-ion battery to power a house. Just connect the car to the house's electricity distribution panel through a device linked to the Leaf's quick-charging port.
According to Nissan, the connector complies with the CHAdeMO Association's protocol for quick chargers. The CHAdeMO Association is a group--which Nissan is part of along with the Tokyo Electric Power Company, Mitsubishi Motors, Fuji Heavy industries and Toyota Motor Corporation--that aims to increase quick-charger installations worldwide and seeks to standardize the method of charging electric vehicles.
With the system, the Nissan Leaf can be used as an electricity storage device for houses in preparation for power outages or shortages. Nissan claims that the Leaf's lithium-ion battery can store up to 24kWh of electricity, which can power an average Japanese household for approximately two days. The carmaker also says that the system can be used for the Leaf's lithium-ion battery to charge another electric vehicle.
Continue reading below ↓
Recommended Videos
We don't know about you but it sounds like the Nissan Leaf is the most sosyal electric generator in the market today.