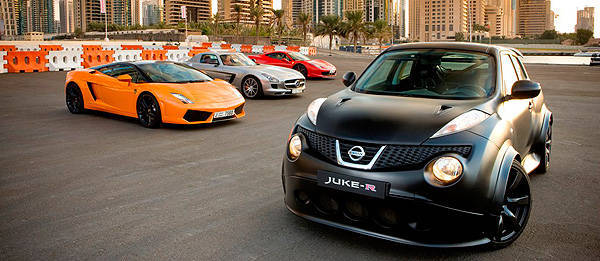 Although Nissan has said that its Juke-R crossover is a one-off, road legal concept car, it's inevitable that the Japanese carmaker will produce a limited run if there's sufficient demand for it. Apparently, three firm orders qualify as "sufficient demand" as Nissan has confirmed that the bastard child of the Juke compact crossover and the GT-R supercar will be produced "in a very limited run on build-to-order basis."
The 3.8-liter, 257kph Juke-R made its global debut in Dubai last January, and apparently it made such an impact in the city that two of the three orders have come from high-profile residents of the Middle East enclave.
However, while the original Juke-R concept was based on the powertrain of the 2010 model GT-R, the limited-production model will make use of the slightly more powerful 2012 model GT-R.
According to Nissan, it will build more Juke-Rs upon request and will be taking orders in the coming four weeks before it begins production of the car.
ADVERTISEMENT - CONTINUE READING BELOW ↓
If your pocket is as deep as the three future owners of the Juke-R and you'd like to join their exclusive club, Nissan is advising you to get in touch with the company by sending an email to Juke-R@Nissan.co.uk.
"The Juke-R was originally intended as a one-off concept to marry two of Nissan's most innovative models," said Gareth Dunsmore, Nissan's marketing product manager for the Juke. "But the reaction we had to the car in Dubai was amazing--people were making offers for the original on the street! With such a strong reaction, and with three genuine offers on the table, we decided we had to make the car a reality. We can't let down enthusiasts who are this keen to add to their collection of cars. The Juke-R has become something of a phenomenon, and I'm enormously proud of the impact it has had. There will be more news to come on Juke later in the year."
ADVERTISEMENT - CONTINUE READING BELOW ↓
Recommended Videos
To coincide with the announcement of the Juke-R's limited run, Nissan has launched an online movie starring the vehicle as driven by inaugural GT Academy winner Lucas Ordonez and going up against "some of the world's most famous supercars in a thrilling street race."
If you're viewing this on a mobile device and can't see the video, please click here.