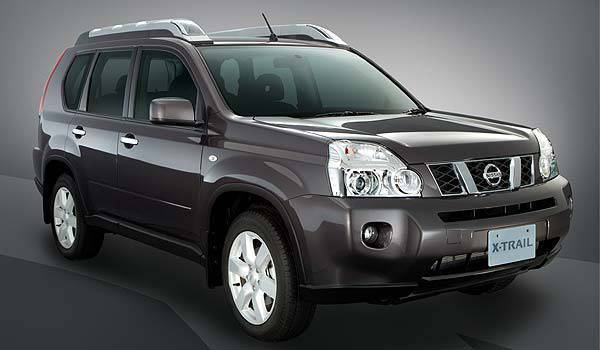 The new Nissan X-Trail has finally arrived and it will be available in local dealerships starting June 12.
Nissan has brought in the Nissan X-Trail CVT in 4x2 and 4x4 variants priced at P1.350 million and P1.550 million, respectively.
The new Nissan X-Trail's 2.5-liter QR25DE engine is designed to improve combustion and generate lower noise and vibration while delivering peak performance figures of 170hp of power and 230Nm of torque. Mated to it is Nissan's Xtronic CVT (Continuous Variable Transmission) that shifts gears smoothly whether on the highway or on rough roads while improving its fuel efficiency.
The Nissan X-Trail 4x4 has a dial-controlled electronic four-wheel drive (4WD) system that may be switched at any speed and in any driving condition. In normal driving situations, the two-wheel mode is ideal for getting the most mileage in everyday driving. The Auto mode, meanwhile, monitors the engine speed and acceleration and automatically distributes the required torque to the rear wheels whenever needed. In 4WD mode, the center clutch can be locked to turn the Nissan X-Trail into a full-time 4WD vehicle.
Continue reading below ↓
Recommended Videos
While the all-new Nissan X-Trail is a capable off-road vehicle, its occupants' comfort is not sacrificed as it has a versatile seating arrangement. Its cargo-carrying capacity has also been increased as the rear seats can be folded flat to accommodate two mountain bikes without detaching their front wheels. Nissan has also placed the SUV's instrument cluster to the traditional location right in front of the driver, junking the awkward center-mounted design found in the old X-Trail.
The all-new X-Trail also puts a premium on safety features with six airbags, High Intensity Discharge (HID) headlamps, and Nissan's Zone Body Concept for additional safety and protection in case of frontal crash.
"The coming of the all-new Nissan X-Trail CVT, as well as the other models that we bring in, is a testament of our commitment to our customers. Commitment to deliver the best value product that will fit their needs and wants," said Allen Chen, president and chief executive of Nissan Motor Philippines, Inc. "The all-new X-Trail is packaged just like that--a vehicle that will respond to the consumers' lifestyle needs supported by features that will provide them ease, comfort, pleasure, and safety."
Feel like mocking Nissan for not giving the X-Trail a total facelift? We're sure Nissan won't mind. After all, the carmaker decided to maintain the Nissan X-Trail's looks to keep the "tough and functional features known to the X-Trail."
"Based on the comprehensive research among first-generation X-Trail owners, they loved the car so much they did not want to change a thing," Nissan said in a statement. "Hence, the all-new Nissan X-Trail applies the styling concept 'function-oriented design' intended to appeal rigidness, comfortable roominess and good visibility leading to good maneuverability."