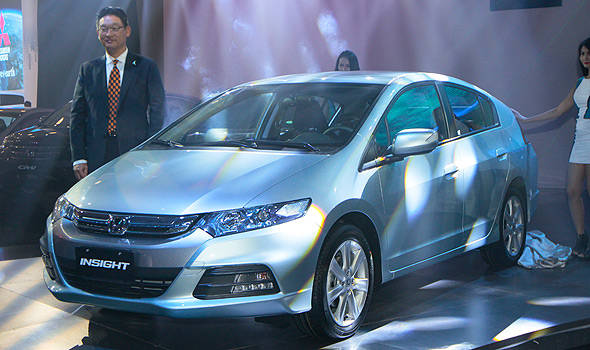 The highlights of Honda Cars Philippines' booth at the 4th Philippine International Motor Show are its hybrid models, the Insight and the CR-Z.
The Insight is a five-door hatchback that packs a four-cylinder, 1.3-liter i-VTEC engine and Honda's latest-generation Integrated Motor Assist system. The Insight is equipped with a Continuously Variable Transmission that enhances its fuel efficiency. It is also the first Honda vehicle to feature the carmaker's Eco Assist System. The Eco Assist has a driver-activated 'Econ' mode that optimizes control of the CVT, engine and other powertrain-related components to further improve the vehicle's fuel efficiency. A driver feedback function uses an innovative speedometer display that changes background colors to provide real-time guidance to the driver on how to achieve higher fuel-efficiency. There's also a unique fuel-economy scoring function to provide feedback to the driver on current-trip driving efficiency and lifetime fuel-efficient driving performance.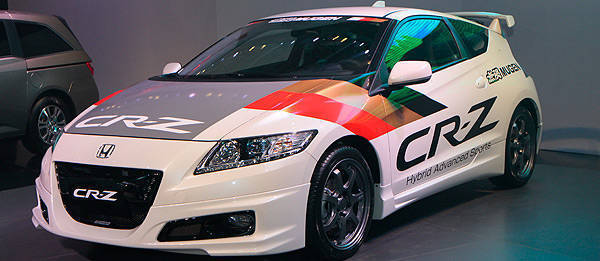 Continue reading below ↓
Recommended Videos
As for the CR-Z, the three-door hatchback is "based on Honda's passion to broaden the potential for a hybrid vehicle while enabling its customers to experience a new kind of excitement with all of their senses." A four-cylinder, 1.5-liter i-VTEC engine is also paired with Honda's Integrated Motor Assist system, allowing it to provide maximum torque at 1,000-1,500rpm and strain-free acceleration into the high-rpm range. In combination with the CR-Z's lightweight body, this powertrain reportedly produces the acceleration feel of a higher-displacement gasoline engine while offering outstanding fuel economy. The CR-Z also features the world's first six-speed manual transmission on a hybrid vehicle to enhance its driving performance. Lastly, to further highlight its sporty characteristics, the CR-Z has Mugen accessories and equipment installed, from its bodykit to its suspension.
So, why the two hybrid displays? Apparently, HCPI is keeping a close watch on the hybrid vehicles incentive bill that's currently undergoing deliberation in the Senate.
"Right now, it's too cost-prohibitive to bring in Honda's hybrid models," said HCPI marketing department head Xavier Eyadan. "But, depending on the bill's incentives, if we take away all the taxes and tariffs that are currently being charged on all hybrid vehicles, the prices could go down by as much as 45 percent."
What are the chances, then, of both vehicles being sold in the Philippines once the hybrid vehicles incentive bill is passed into law? According to Allan Cruz of Honda Cars Philippines' marketing and sales division, the Insight will definitely make its way here, while the CR-Z has "a very good chance" of being sold locally.
Let's hope the Philippine Senate passes the bill soon. After all, the prices of petroleum products seem to be on the rise again.
Photos by Marlon 'Taz' Dacumos