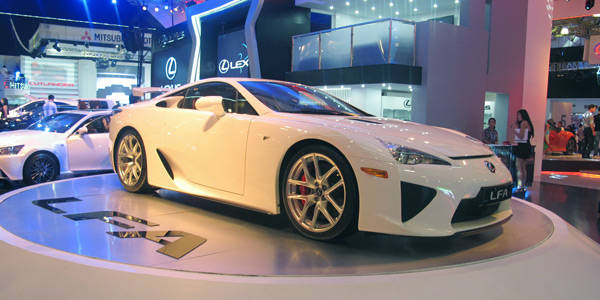 In a grand automotive event like the 4th Philippine International Motor Show, car companies do their best to one-up each other with attention-grabbing booth displays. They all want their corner to be the most visited of the lot. After all, it isn't cheap to participate in an expo of this magnitude. It's only natural that industry executives would want their area to get the most eyeballs.
Lexus Manila, for one, made sure its booth would be truly special by displaying the P40-million LFA supercar. It was easily the most expensive and most exotic automobile at the show. If you were the carmaker unlucky enough to be positioned just across the LFA, what would you do to steal the LFA's adoring crowd? Well, a Nissan Motor Philippines (NMPI) executive seemed to have stumbled upon a brilliant idea.
We were strolling in the Lexus display area yesterday and were surprised to see the LFA by its lonesome. There was not a single soul checking it out. As in no one. How could this possibly be?
Just then, our attention was caught by a swelling crowd at the Nissan booth situated directly in front of Lexus, and we wondered why they weren't minding the mighty LFA. So we approached Nissan's area and pushed past the mob. In the middle of it all, it turned out, was a pair of scantily clad models dancing in front of the Almera subcompact sedan, which NMPI is expected to launch in our market later this year.
Continue reading below ↓
Recommended Videos
A beaming Lee Junia, NMPI's marketing vice president, told us: "I instructed my staff to spend more on the operations instead of the booth itself." Operations, of course, include show models hired to attract the predominantly male motor-show visitors.
Time to call this event Philippine International Model Show?