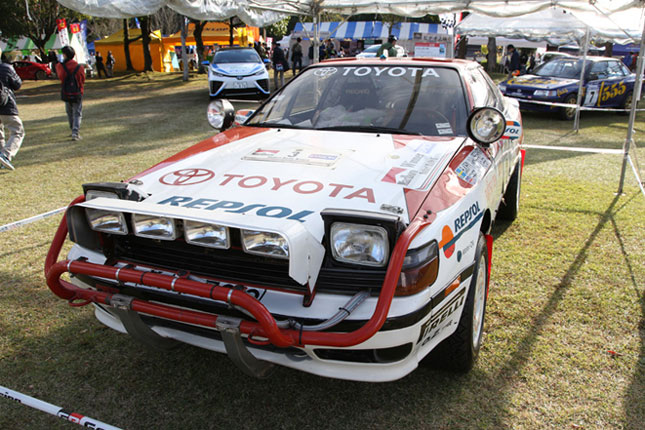 The last few years witnessed Toyota trying its very best to show the world that it could still have a bit of fun while still churning out sensible vehicles for the average motorist. There is the 86 and the upcoming S-FR that essentially give mere mortals like us the chance to drive and own a proper sports car. And then there is the brand's penchant for motorsports.
It can be seen in events like our local Vios Cup, which puts the no-nonsense subcompact sedan in a one-make race and allows pretty much anyone to experience wheel-to-wheel racing.
Yet this fun side of Toyota isn't just confined to our local racetracks and showrooms. In its home Japanese market, the carmaker recently held an event that showcased a day of racing and a bit of nostalgia for the young and the old alike. A couple of months back, the final leg of the 2015 Japanese Rally Championship was held at the Shinshiro General Park in Aichi Prefecture. The day was marked by adrenaline-filled racing and a bevy of sights and sounds that could make any car enthusiast weep with delight.
The nostalgic part was courtesy of the Japanese car giant's very first race car that participated in an overseas event: the Crown Deluxe. The replica was a testament to the capability of Japanese engineering as this car had withstood a grueling 17,000km, 19-day trek through some of the harshest terrain in the Australian outback. Apart from this, a more recent rally rep was the 1990 Celica GT-Four that helped put Toyota and the Japanese on the rally-racing map. The car possesses an awesome combo of turbo power and all-wheel-drive prowess.
Continue reading below ↓
Recommended Videos
Before the day came to a close, the dusk air was punctured by the roaring sound of one of the most awe-inspiring supercars to come into being--the legendary limited-run Lexus LFA. While the car is already a sight to behold in itself, it was made even more exciting because of the person behind the wheel. It was no less than Toyota president Akio Toyoda himself. It is no secret that Toyoda is a huge motorsports fan, and has said on many occasions that he wants to bring fun back to Toyota.
And this is exactly what spectators got. The main race itself saw the hydrogen fuel-cell Mirai go up against the iconic Sports 800. Isn't that a treat?
With cars and events like these, it sure looks like Toyota is on track to letting loose and having a good time. Hopefully, we'll get more of that in the cars that roll out of the dealerships as well.