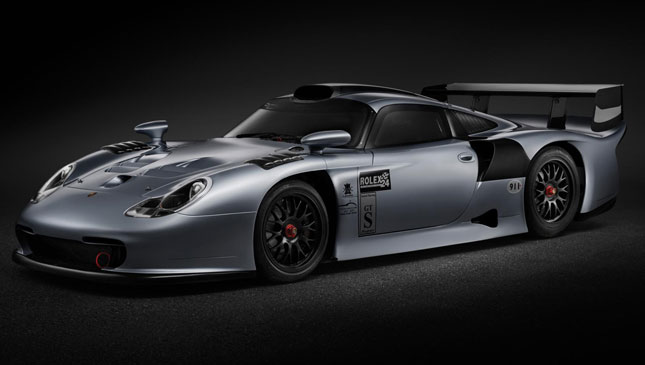 This, friends, is a Porsche 911 GT1 Evolution. And very shortly, it will go up for auction at the RM Sotheby's Monaco sale in May 2016. That alone would ordinarily be enough to send you into a minor meltdown, were it not for the fact this particular GT1 has two very, very special claims to fame.
Number one: As you can see by that little 'P1 POW' registration on the back, this is a road-legal car. Officially, it's the only ex-racing GT1 Evo to be legalized for use on the public highway (and therefore not to be confused with Straßenversions). Number two: This particular GT1 is the most decorated example ever, winning the Canadian GT championship three times on the spin from 1999 to 2001. It's also a 24 Hours of Daytona veteran, though it finished slightly less successfully, having qualified 12th but finishing 41st in the 2001 event. Still, 13 wins from 31 starts isn't exactly a shabby career.
And what exactly puts the 'Evo' in this GT1? Well, it's all about the aerodynamics. Porsche originally unleashed the mid-engined, water-cooled GT1 in 1996, with the car loosely hinting looks-wise at the then-contemporary 993-gen 911. Though the twin-turbo flat-six was hugely powerful--offering a monstrous 600-640hp from just 3.2L--the car wasn't as race-competitive against the McLaren F1 GTR and the Ferrari F40 LM as Porsche had hoped.
Continue reading below ↓
Recommended Videos
The Germans set to work on an all-new aerodynamics package (focused around an air freighter-spec rear wing), and bunged in the 'fried-egg' headlights from the upcoming 996-gen 911, and christened the result the "GT1 Evolution." Mercedes, of course, had secretly been hard at work on its CLK AMG GTR, which, um, showed the GT1 the way home at Le Mans in 1997.
Still, it's an amazing thing, and with a registration like 'P1 POW', this GT1 Evo is perhaps the perfect cheeky repost to the McLarens that duffed up its sisters back in the '90s. And don't worry about one of Porsche's official GT1 Straßenversion road cars giving your Evo a bloody nose on the Oxford ring road. The homolgated cars got a detuned engine offering just 544hp, and it weighed in 100kg heavier than the racer.
How much? Well, the estimate is 2.7 to 3 million euros (P139 to 154 million). That's a wedge more expensive than a Bugatti Chiron--but there'll be 500 of those in the end. You'll never come across another GT1 Evo at the lights, and we're not sure you can put a price on that.
NOTE: This article originally appeared on TopGear.com. Minor tweaks have been made.
Photos by Chris Wilson for RM Sotheby's