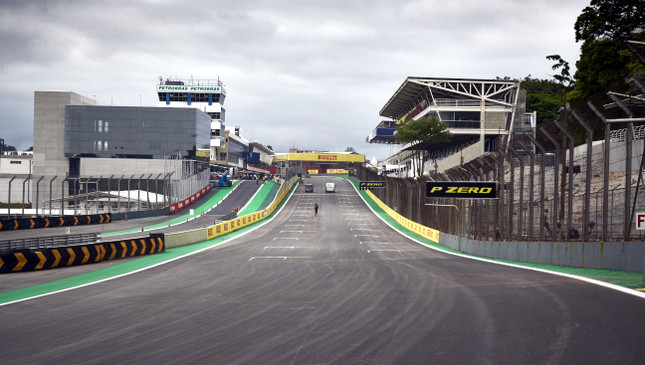 Long-time Formula 1 viewers know this by now: Yes, we have another early (or late, depending on how you look at it) call time this weekend. For the third race running this year. We've got circles under our eyes about as dark as the tire marks left by them Pirellis on the tarmac.
It's still worth losing some precious snooze time for the Brazilian Grand Prix, though, because the Interlagos track--formally known as the Autodromo Jose Carlos Pace--has produced some of the best racing in the history of the sport. All five world champions on the current grid have sealed a title here, and by nail-bitingly close margins in 2007, 2008 and 2012. Lewis Hamilton must be relieved he has already clinched the title and won't have to relive the torture of his first two in Sao Paolo.
Speaking of Hamilton, he has had a newsworthy run-up to this race, so let's go through five of the weekend's top stories for our Brazilian GP preview:
1. Our incumbent world champion, if you didn't already know, figured in a car accident earlier this week. Mercedes had announced that his delayed arrival in Brazil was due to illness, but he himself revealed the full reason in an Instagram post.
Continue reading below ↓
Recommended Videos
Hamilton's Pagani Zonda struck three parked cars when his "foot slipped on the brake and clutch pedals," according to Monaco's Palais de Justice. The official statement added that the Brit "was tested for alcohol but the result was negative."
"[The crash] was a result of heavy partying and not much rest for a week and a half," Hamilton told the British media. "I don't feel as bad as I look, but I honestly feel a lot better. I am a bit run-down. I have been nonstop and trying to fit training in at the same time and not getting a lot of sleep."
"The last two days, I have slept pretty much all day," he continued. "I couldn't believe how much I slept. I slept on the flight here. I usually sleep four or five hours, but when you are training you need more than that. I am generally a really energetic person, but that week after Mexico and the party, we drank a lot and I was really feeling it."
2. The Red Bull and Renault saga has been pretty much a year-long 'on again, off again' story of Hollywood-couple proportions. The latest scoop: Daniel Ricciardo is running the upgraded V6 engine (worth 11 development tokens) in Brazil, and his performance will influence his team's decision for 2016. The once-dominant partnership might yet survive beyond 2015, albeit with Red Bull running either unbranded or rebadged Renault units after this season.
3. On the subject of rebadging, there is a possibility of Force India being rebranded as Aston Martin Racing. This comes after rumors of a tie-up between Red Bull and Aston Martin earlier this year. Mercedes owns a 5% stake in the British company, which means the arrangement would have given Mercedes propulsion to Red Bull. That said, Force India is already a Mercedes customer team, so its potential partnership with Aston Martin would pose no branding conflicts.
4. Meanwhile, Valtteri Bottas asserts there are no conflicts, too, between him and compatriot Kimi Raikkonen despite their recent on-track clashes in Russia and Mexico. "We haven't spoken lately, but there have been no problems. It's racing--sometimes you hit, sometimes you don't, and this time we hit. It's just unlikely that it was me and him again."
Asked about the reactions of some Finnish fans who blamed him for the clashes, Bottas said: "I haven't read anything after Mexico; I only read after Sochi. Obviously, it is Kimi bias in Finland because he is a world champion, and he has loads more fans. That's fine with me, that's how it is, and I haven't checked anything recently because I know I can get a lot of sh*t from time to time. I've also got a lot of support and I'm thankful for that."
5. Finally, here's some more honest self-assessment courtesy of Fernando Alonso, who thinks his driving has been off this year when some observers say he has flattered his McLaren: "I did some good laps here and there. I remember Japan, qualifying two, I think the lap was at the limit. The whole Austin race was good in difficult conditions--wet, dry, dry tires on a damp track, et cetera. There, I felt confident with the car and able to push. Apart from these two moments, I don't think that I have had the best season. Definitely, I need to improve for next year. When you are running at the front and you have more motivation, that helps, of course. I'm on standby, let's say, in economy mode. I will have more energy next year."
Photos from Mercedes AMG Petronas and Scuderia Ferrari
At a glance: Brazilian Grand Prix
Circuit: Autodromo Jose Carlos Pace
Lap distance: 4.309km
Number of laps: 71
Dry-tire allocation: medium (prime), soft (option)
Race: November 16 (Monday), 12am
*Schedule is in Philippine time