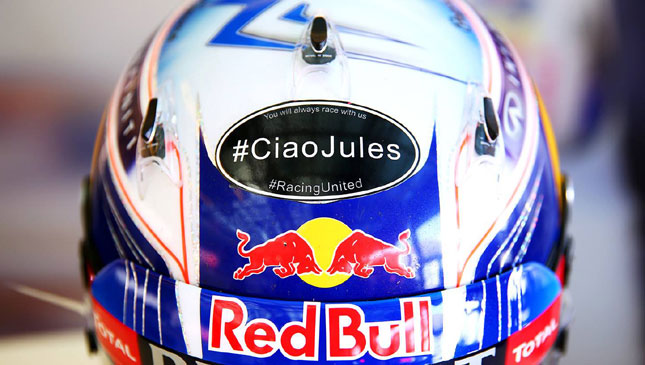 So, one more race before Formula 1 goes on a mid-year summer break. Hungary is this weekend's stop, and given the Hungaroring's tight and twisty nature, the teams will look back particularly on what they've learned from the Monaco GP, and apply these on their car setups for this round.
Track characteristics aside, however, the Budapest venue is nothing like Monte Carlo--no concrete walls, landmark infrastructure, picturesque harbor views, or sightings of the rich and famous. Instead of celebrities, you're more likely to encounter cattle in the surrounding area. The good news (that we don't want to jinx by mentioning, but here goes anyway) is that the once-boring circuit has produced some of the most gripping races in recent years, with lots of overtakes, lead changes, and unpredictable weather. It's Hungaboring no more.
Quick note before our five-point preview: Before the race on Sunday, there will be a minute's silence in honor of Jules Bianchi, who passed away on July 17th. His race number (17) has been retired by the FIA.
1. Starting from this round, the FIA has agreed to simpler penalties for drivers who exceed power-unit allocations. Taking on fifth or succeeding units will still incur grid drops, but when a driver's qualifying position isn't high enough to serve out the full grid penalty, the remainder will no longer be converted to drastic time penalties that could well transport said driver back to a past life. (Okay, we do exaggerate, but the former system was excessive.) At most, the driver will be relegated to the back of the grid.
Continue reading below ↓
Recommended Videos
Honda, as a new engine supplier, also gets an increased allocation of five power units for each of its drivers.
2. Here's some interesting trivia, care of Formula 1.com: The Hungaroring is quite the winner-maker, with Damon Hill, Heikki Kovalainen, and current McLaren teammates Jenson Button and Fernando Alonso taking their maiden F1 victories here. A champion-maker it is not, though--it has been over a decade since the Hungarian GP winner took the drivers' title in the same year. According to the official preview, "it has happened only eight times in history, and the last man to manage it was Michael Schumacher in 2004." Eight times in 29 stagings--a rather stingy stat.
3. Case in point: Daniel Ricciardo triumphed for Red Bull last year, but he was 146 points behind eventual champion Lewis Hamilton by season's end. Still, surprise wins like that give us hope that it won't be all about Mercedes at the front, even if the German squad's cars have a whopping advantage over the field in terms of power, reliability, aerodynamics and handling.
4. Another Mercedes edge is that Hamilton is something of a Hungaroring specialist, with four wins, five podiums, and only one DNF in eight starts. Of the five champions on the current grid, only Sebastian Vettel hasn't won in Budapest. Can he and Ferrari reclaim their position as best of the rest and stave off the challenge that Williams is mounting?
5. Speaking of former champions and Ferrari, rumors of Kimi Raikkonen getting the boot from the Italian team have been raging the past few days. Word is that Ferrari will buy out Valtteri Bottas from Williams, which has a contract option to keep the younger Finn in 2016. This speculation is really nothing new, but if it gets confirmed, it will spur movement in the driver market for next season.
At a glance: Hungarian Grand Prix
Circuit: Hungaroring
Lap distance: 4.381km
Number of laps: 70
Dry-tire allocation: medium (prime), soft (option)
Qualifying: July 25 (Saturday), 8pm
Race: July 26 (Sunday), 8pm
* Schedules are in Philippine time
Photos from Infiniti Red Bull Racing and Mercedes AMG Petronas