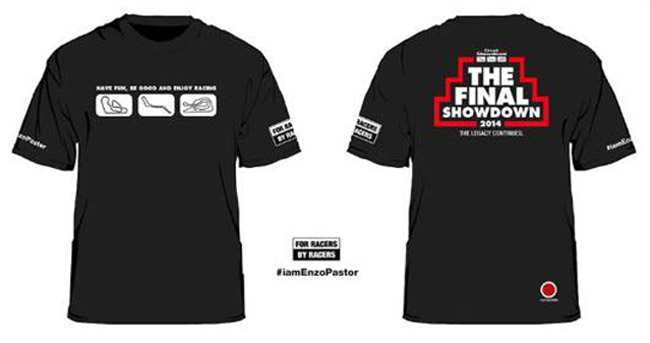 Circuit Showdown, the grassroots racing series founded and run by the late Enzo Pastor, will hold its farewell race today at Clark International Speedway as a way for organizers to fulfill their contractual obligations and for friends to pay tribute to the murdered race driver. But the event will carry a different name--"The Final Showdown"--as drama and controversy continue to surround the memory of Pastor.
Apparently, the mother of Enzo's wife Dalia, Val Oosthuizen Guerrero, threatened to take legal action should the race be run using the name "Circuit Showdown." The following message was posted by the elder Guerrero on Circuit Showdown's Facebook page:
To whom it may concern, Circuit Showdown will not be running this race at Clark International Speedway this 11 October 2014. It will not hold any more races this year. Anyone using this name for any reason whatsoever will be charged with estafa. This company has been filed as non-operational.
If you failed to follow the news about the death of Enzo Pastor the last couple of months, Dalia is now considered a suspect in the killing of her husband, together with her alleged lover Domingo "Sandy" de Guzman III. De Guzman has been released on bail, while Dalia is still nowhere to be found.
Continue reading below ↓
Recommended Videos
A source from inside Enzo Pastor's camp shared with us that out of Circuit Showdown's 129 shares, both Enzo and Dalia owned 61 shares each. The remaining seven shares were spread among three other unnamed individuals. This means Dalia owned 47% of the company that used to organize the race series.
To circumvent the warning issued by Dalia's mother, Enzo's friends decided to just give today's event another name, hence The Final Showdown. One of Enzo's closest friends (and an officer of Circuit Showdown) spoke to TopGear.com.ph to clarify the matter.
"We are holding this race to fulfill our commitments to sponsors," explained Marc Peter Thomann. "We are reluctantly continuing what CS started. At the beginning of the season, we talked to sponsors and signed contracts. Most of these sponsors were referrals from the racers. We don't want to end the season with the reputation of CS tarnished because of its inability to comply with contracts. But we're reluctant to hold the race because of the implications. You have no idea how stressed we are. It's like being caught between a rock and a hard place."
Are they expecting trouble during the event?
"If Dalia's mother wants to stop the race, she has to find a lawful way to do so," Thomann said. "We are here to fulfill our obligations to the sponsors and to those who participate in the race series. It will leave a bad taste if we just cut the series short. If the race is stopped, it isn't just killing the event. It is like killing the community. We are expecting over 100 racers. These guys invested in their cars and upgrades. They would be left hanging."
After all of this is said and done, will the friends of Enzo start a similar race series?
"We are planning to make another series, and it will not involve the Pastors or the Guerreros," Thomann revealed. "We don't want any of those parties involved because it will be wrong. It will be an all-new entity, made for racers and by racers. We will continue the legacy of Enzo this way, without any bias. We want to be neutral so that there are no fights within the organization. This is so that anybody can come in and join us, and not be intimidated. Everybody will be comfortable. Circuit Showdown is for the racers and by the racers, and we owe it to the racers to finish what we started."
So, if you want to join the Circuit Showdown community in honoring the memory of Enzo Pastor, just drive to Clark International Speedway today (October 11). Admission is free, and the gates will open starting at 7am.