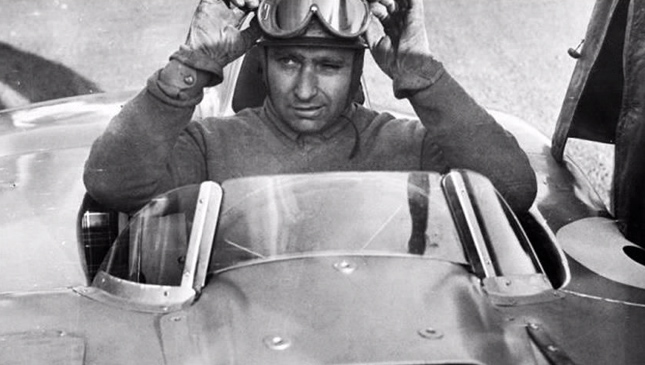 In 1911, in the small Argentinian town of Balcarce, a legend was born. Juan Manuel "The Maestro" Fangio was undoubtedly one of the greatest racers to man the wheel of an Formula 1 car. Maybe it was only fitting that he was born on San Juan's day--it was St. John, after all, who foretold the coming of the messiah. Charismatic as he was skilled, his persona off the track only added to his legend on it. July 17th marked the Maestro's 20th death anniversary--the very same day on which French F1 driver Jules Bianchi succumbed to head injuries sustained in the 2014 Japanese Grand Prix.
Fangio began his motoring career after dropping out of school to become a mechanic. After a short stint in the military, and with the support of the Argentinian government, the Maestro would take his talents to Europe and go on to win five world titles and 24 races out of 51 starts, from 1950 up until 1958. Many would later go on to consider Fangio as the racing world's first F1 superstar, if not the sport's greatest driver ever.
ADVERTISEMENT - CONTINUE READING BELOW ↓
The Argentine's career wasn't without its due share of hardship and tragedy, though. In 1952, after a missed flight had resulted in an all-night drive through the Alps to take part in a preseason race at Monza, Fangio lost control of his Maserati and crashed. The accident would leave him with a broken neck and sideline him for the entirety of the year recovering back home in Argentina. He was also nearly killed in the infamous 1955 Le Mans racing disaster, which tragically took the lives of 80 spectators.
His final championship at the Nurburgring racetrack in Germany would undoubtedly go down in history as his greatest. After beginning the race with a light fuel load in hopes of building up a lead before refueling, he found himself 45 seconds behind Ferrari's Mike Hawthorn and Peter Collins. What happened next was nothing short of astonishing. The Maestro would go on to break the lap record, eventually surpassing his two competitors to win the race and his last title.
"I have never driven that quickly before in my life, and I don't think I will ever be able to do it again," he said after the race.
Fangio went on to spend the rest of his post-racing career with Mercedes-Benz Argentina, eventually becoming its honorary president for Life. He would also serve as an inspiration for numerous racing greats in the future, including the late Ayrton Senna, who once said that neither he nor anyone else would ever compare to the racing legend.
"Driving fast on the track does not scare me," Fangio once quipped. "What scares me is when I drive on the highway, I get passed by some idiot who thinks he is Fangio."
It was words like these that added to Fangio's legend, even after the racing world mourned his passing 20 years ago. Though some of his records may have long been beaten, very few drivers, if any, can be held in the same light as Juan Manuel Fangio.
ADVERTISEMENT - CONTINUE READING BELOW ↓