You may have not heard about this, but the Ford Ranger has seen quite a lot of success as a full-fledged rally truck, specifically in the South African Country Cross Series (SACCS).
For the last two years, the Ford Castrol Cross Country Team—run by Neil Woolridge Motorsport (NWM)—has been the champion in the Class T segment of the SACCS's Production Vehicle category. This year, the team is taking things up a notch and will compete in the higher premier class.
"Having enjoyed great success in Class T over the last two years, it's time for us to take on a new challenge in the FIA-class, which has grown rapidly to become the most popular and competitive field in the South African championship, and in international cross-country racing," says NWM team principal Neil Woolridge. "This has given us the opportunity to design and develop an all-new Ranger to compete with the best in the world."
Continue reading below ↓
Recommended Videos
In previous years, the Ranger used by the team was powered by a 5.0-liter naturally aspirated V8—the same engine that propels the Mustang. For the upcoming SACCS season, Ford and NWM will be powerting the rally Ranger with a 3.5-liter EcoBoost twin-turbo V6. Yes, that's the same engine used in the Ford F-150 Raptor and the Ford GT.
The exact numbers aren't out yet, but to give you an idea of how powerful this engine is, it produces 450hp and 692Nm of torque on the Raptor. As for the one in the GT, it's been tuned to max out at a whopping 647hp. The FIA confirmed has confirmed that this is the first time a cross-country racer will be powered by a turbopetrol engine under the current regulations.
"We are proud to be pioneering the development of this technology and setting an entirely new benchmark for the global cross-country racing fraternity to follow," adds Woolridge. "It also reinforces the great relationship between Ford and NWM spanning 23 years, and reaffirms South Africa as a leader in designing and manufacturing world-class cross-country racing vehicles."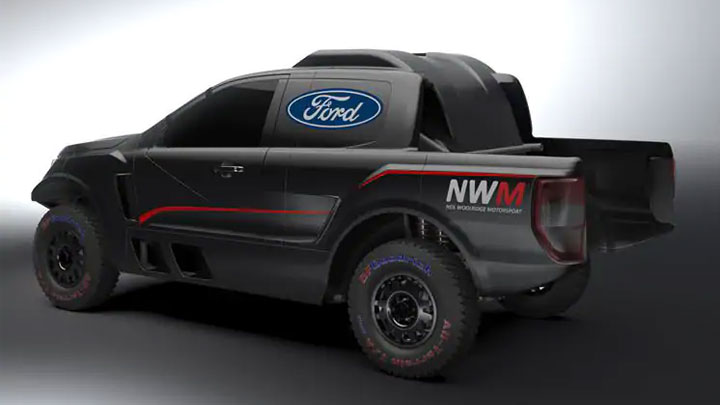 The engine will be mated to the latest-generation SADEV SC924 Evo gearbox that'll send power to all four wheels. In addition, the front and rear differentials underneath are now lighter than in the team's previous Ranger, and will be less complex to replace during races and scheduled service stops.
There are a few changes to the bodywork, too—the truck is now a bit wider than before, and is said to be more aerodynamic thanks to a new chassis design. This not only allowed for a larger cockpit, but also incorporates new fully independent front and rear BOS suspension with dual high-performance BOS dampers on all four corners.
What do you think of this off-road racing machine? Would you want to go dune bashing in a beast like this?