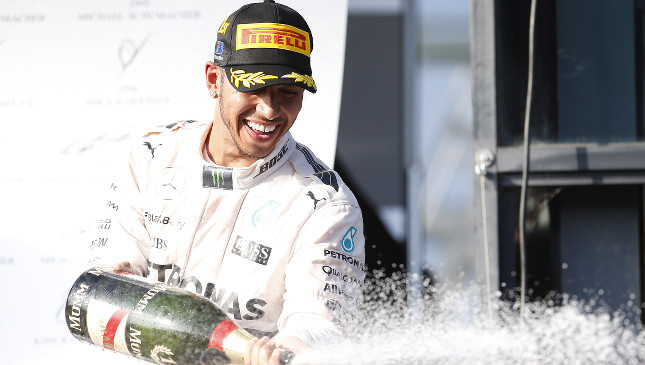 As many Formula 1 fans had expected, Mercedes teammates Lewis Hamilton and Nico Rosberg took a one-two finish at the Australian Grand Prix yesterday to kick off the defense of their drivers' and constructors' titles. Their dominant display, however, was overshadowed by the focal point of the season opener: only 11 finishers out of what should have been a 20-car grid.
Manor Marussia was unable to run as early as Friday when it could not get the software of its cars sorted out. Next to get the boot was Williams driver Valtteri Bottas, who qualified sixth on Saturday but sustained a lower-back disc tear in the process. He was ruled out of the race by the FIA on Sunday morning. The pack was further reduced to 15 starters when McLaren's Kevin Magnussen and Toro Rosso's Daniil Kvyat suffered an engine issue and a gearbox failure, respectively, on their way to the grid.
Two more casualties were claimed right after race start. Ferrari's Sebastian Vettel and Kimi Raikkonen survived the first corner without touching--but only barely. Their close encounter compromised the Finn, who was tapped by other drivers from behind and on the side. His sideways contact with Felipe Nasr caused the Sauber driver to tag Pastor Maldonado's Lotus and send it into the barriers. The other Lotus car of Romain Grosjean retired soon after due to a power issue.
Continue reading below ↓
Recommended Videos
The race settled down following the safety-car period to retrieve Maldonado's car. Hamilton maintained a comfortable gap to Rosberg throughout, while Vettel seized third from Felipe Massa after their pit stops. At the back of the grid, Jenson Button and Sergio Perez kept each other occupied over second-to-the-last place.
Disaster struck again on lap 32 for 17-year-old Max Verstappen, who had been on course to become F1's youngest points scorer until his Toro Rosso started pouring out smoke. Raikkonen, the final retiree, had rear-left-wheel issues during both his pit stops, but it was the second stop that ended his race when his pit crew failed to secure the wheel completely.
The reduced field meant only one of the finishing drivers failed to score a point, and the unfortunate driver was Button. On the upside, his McLaren-Honda did make it to the end of the race. Daniel Ricciardo was also happy to come home sixth after a troublesome weekend for Red Bull--and after being lapped by Mercedes. Apart from the champion squad and Force India, the only other team to achieve a double points finish was Sauber, which didn't score a point at all in 2014.
Clippings from the Australian Grand Prix
* Fastest lap: Lewis Hamilton, 1:30.945 (Lap 50)
* Rookie on the run: Sauber's Felipe Nasr, who lived through the first-corner chaos and nailed a safety-car restart to collect his first F1 points--10 big ones. Honorable mention also goes to Carlos Sainz Jr. for scoring two points in his debut race.
* Team radio talk: "Did you leave the wheel loose?" Kimi Raikkonen asked after his disastrous pit stop. His engineer replied: "Unfortunately, the wheel was not tight. I'm sorry, Kimi." Do they know what they're doing?
* Celebrity moment: Even the drivers were starstruck when The Terminator stepped out to conduct the podium interview. "Arnold Schwarzenegger, man!" Hamilton exclaimed like a kid meeting his idol--but then he added, "I thought you were taller!"
* Top tweet: Arnie was happy to meet the winner, too.
Congrats, @LewisHamilton. It was great to watch you race today. And don't worry, I was star-struck, too.

— Arnold (@Schwarzenegger) March 15, 2015
* Quote of the race: Of course, no Schwarzenegger appearance would be complete without that line. "I'll be back!" Hamilton promised, already thinking of the next race in Malaysia.
Photos from Mercedes AMG Petronas and Scuderia Ferrari
Australian Grand Prix race results
Finishing
position
Driver
Starting position
Time/Gap
1
L. Hamilton (Mercedes)
1
1hr 31:54.067
2
N. Rosberg (Mercedes)
2
+1.360
3
S. Vettel (Ferrari)
4
+34.523
4
F. Massa (Williams)
3
+38.196
5
F. Nasr (Sauber)
10
+1:35.149
6
D. Ricciardo (Red Bull)
6
+1 lap
7
N. Hulkenberg (Force India)
13
+1 lap
8
M. Ericsson (Sauber)
15
+1 lap
9
C. Sainz (Toro Rosso)
7
+1 lap
10
S. Perez (Force India)
14
+1 lap
11
J. Button (McLaren)
16
+2 laps
DNF
K. Raikkonen (Ferrari)
5
DNF
M. Verstappen (Toro Rosso)
11
DNF
R. Grosjean (Lotus)
8
DNF
P. Maldonado (Lotus)
9
DNS
D. Kvyat (Red Bull)
(12)
DNS
K. Magnussen (McLaren)
(17)
AUS
Driver standings
Team standings
Pos
Driver
Points
Team
Points
1
L. Hamilton
25
Mercedes
43
2
N. Rosberg
18
Ferrari
15
3
S. Vettel
15
Sauber
14
4
F. Massa
12
Williams
12
5
F. Nasr
10
Red Bull
8
6
D. Ricciardo
8
Force India
7
7
N. Hulkenberg
6
Toro Rosso
2
8
M. Ericsson
4
McLaren
0
9
C. Sainz
2
Lotus
0
10
S. Perez
1
Manor Marussia
0
11
J. Button
0
12
K. Raikkonen
0
13
M. Verstappen
0
14
R. Grosjean
0
15
P. Maldonado
0
16
D. Kvyat
0
17
K. Magnussen
0
18
V. Bottas
0
19
W. Stevens
0
20
R. Merhi
0