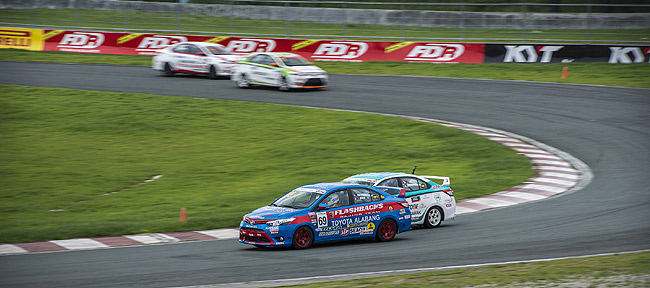 The Vios Cup held in other ASEAN countries has always been a street race, so the last round of the Philippine edition is extra special. In keeping with the tradition of this exciting series, the final round of the 2014 Vios Cup will be held in McKinley West in Bonifacio Global City on October 18 and 19.
What has changed? From 30 in the last round, a total of 37 race cars will be participating, but this time, the final leg will be divided into two grids (or brackets) based on the results of the qualifying round on October 18.
Another major change is that double points will be awarded in this final round, making it easier for the rest of the grid to catch up to points-leader Jason Choachuy. The championship standings will surely be shaken before the final race is over. The overall season champion will receive a brand-new Toyota Vios 1.5 G MT. Meanwhile, the second-placer will get P400,000 and the third-placer will receive P200,000.
Continue reading below ↓
Recommended Videos
And then there is the track layout. Trust us, it will be as unforgiving as the Guia Circuit of the Macau Grand Prix. The 1.8km street circuit will be lined by Armco, steel and concrete barriers. There will hardly be any run-off area, so one mistake will definitely send cars into the barriers. And when a car hits the wall, it's game over.
Look closely at the map below and you will also see three first-gear hairpins. Based on the last practice sessions, how efficiently and cleanly you navigate these corners can make or break your race. It's a very tight course, so car-to-car contact in these areas is inevitable.
If the promise of on-street carnage isn't enough, the Drift King himself, Keiichi Tsuchiya, will be showcasing the skills that made him legendary during a demo run. A concert is scheduled, too.
You guys don't want to miss this two-day waku-doki event. It will be epic!
Oh, admission is free. See you there.
Photo by Igor Maminta
October 18, 2014
07:00 - 12:00
Official practice
12:00 - 13:00
Track day
13:00 - 16:00
Qualifying
October 19, 2014
07:00 - 08:00
Registration
08:00 - 09:15
Warm-up laps
09:25 - 10:00
Track-day demo
10:00 - 11:00
Opening ceremony
11:00 - 12:00
Lunch
12:00 - 13:20
Official Vios Cup drivers Heat 1
13:30 - 14:00
Media and celebrity drivers Heat 1
14:00 - 14:50
Games and entertainment
14:50 - 15:20
Drift demo with Keiichi Tsuchiya
15:20 - 16:50
Official Vios Cup drivers Heat 2
16:50 - 17:20
Media and celebrity drivers Heat 2
17:20 - 18:00
Closing program
Onstage meet and greet
Vios Cup Leg 3 awarding