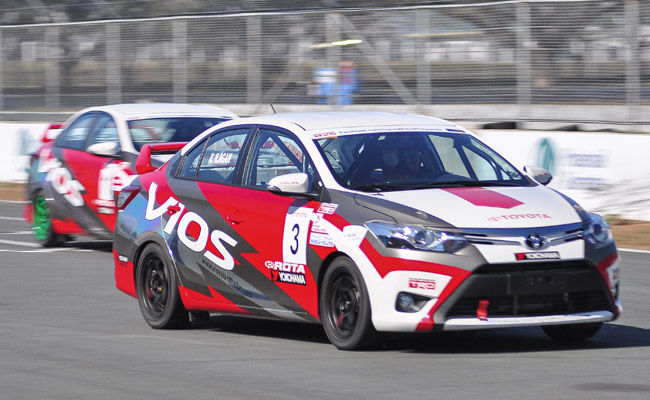 There's no doubt that Toyota Motor Philippines has pulled off a Herculean feat in organizing and mounting the 2014 Vios Cup. It began with an exhibition race held in January with media and celebrity racers. Then the first official leg was held on May 24, enthusiastically joined by major Toyota dealers and some privateers. During the second leg last July 24, a downpour made the race exciting, with the drivers showing how good they were (or not) in the rain.
Now, momentum is so strong that there's buzz about a petition going around, seeking to ask Toyota's Japan head office if TMP president Michinobu Sugata's term can be extended. This is to ensure the continuation of the Vios Cup for 2015 (not to mention TMP's record-breaking sales performance). But that's a possible story for another day.
The big news is this: To cap TMP's wildly successful racing series, Sugata made an important announcement during his company's 26th anniversary celebration last night attended mainly by the motoring press. He said that the third and last leg of the Vios Cup will be a street race in Metro Manila. The actual location is at McKinley West in Bonifacio Global City, on a 1.7km track to be designed by the Tuason Racing School. The race will be held on October 18, so mark your calendars.
ADVERTISEMENT - CONTINUE READING BELOW ↓
This street track is much shorter than Clark International Speedway, where all the Vios Cup races have been held so far, so TMP execs told us there will definitely be more laps. Our sources also said that proper barriers will be put in place, and bleachers will be installed in certain areas, so that the race will be safe and enjoyable for spectators.
There will certainly be more people watching this time because of the more accessible venue. Also, the celebrities who have become major crowd draws will be in attendance: Sam YG, Fabio Ide (a darling of our managing editors Steph and Tracy), Phoemela Baranda, and, of course, the lovely Rhian Ramos.
For the media participants, TMP decided to make this last leg a "champions edition." That means the winners of all the media divisions from the exhibition race to the second leg will compete with each other. So that means our print associate editor Paulo Subido will be racing once again.
ADVERTISEMENT - CONTINUE READING BELOW ↓
Recommended Videos
It's almost sure to be a fun-filled race on October 18. We'll see you there.