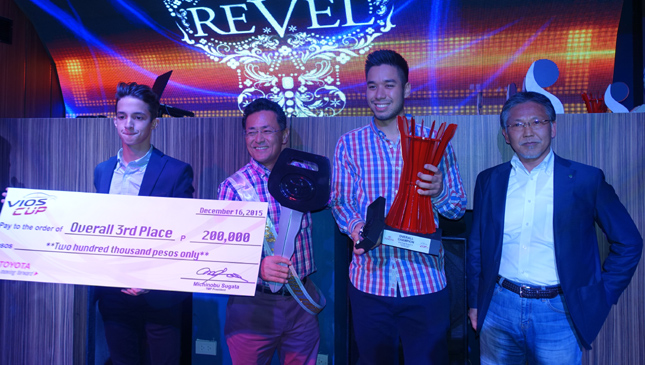 As they say, all good things must come to an end. The 2015 season of the Toyota Vios Cup has officially wound down to a close. Drivers from all three racing classes--sporting, promotional and celebrity--convened at the Revel At The Palace in Bonifacio Global City for the Vios Cup culmination night and final awarding ceremonies. But while there were trophies handed out, the night was mostly about celebrating one hell of a ride.
For the Sporting Class, Andres Calma took first-place bragging rights, as well as a brand-new Vios 1.5G MT, after finishing the season with a combined total of 182 points. His strong performance in the Cebu leg allowed him to best second-placer Allan Uy, who finished with a total of 153 points. Daniel Miranda rounded out the top three with 136 points.
The Promotional Class, meanwhile, ended up being more of a nail-biter: The top three drivers were separated by less than 20 points each. Miguel Diaz managed to grab the top spot after an 80-point performance in Leg 3 of the series; he finished the season with a total of 140 points. Paolo Rodriguez and Lord Seno were in second and third with 136 and 122 points, respectively.
Continue reading below ↓
Recommended Videos
Last but definitely not least, Sam YG left the rest of the competition in the dust in the Celebrity Class, followed by Phoemela Baranda in second place. They finished with 226 and 207 points, respectively. Jinno Rufino placed third, ending the season with a total of 164 points.
A total of 63 racers participated in the Vios Cup this year, which featured movie actors, politicians and everything in between. A full listing of the season results can be found below.
But our favorite bit from the event was outgoing Toyota Motor Philippines president Michinobu Sugata's emotional announcement that the one-make race series will be returning next year. In his speech, Sugata said that Vios Cup--or his "baby," as he called it--will be bigger, better and more exciting in 2016. We're looking forward to it already.
Photo by Tracy Carpena
2015 Vios Cup (Sporting Class)
Pos
Car no.
Name
Leg 1
Leg 2
Leg 3
Leg 4
Total
Race 1
Race 2
Race 1
Race 2
Race 1
Race 2
Race 1
Race 2
1
97
Andres Calma
12
8
40
40
30
16
16
20
182
2
26
Allan Uy
10
15
20
24
20
0
40
24
153
3
20
Daniel Miranda
4
12
30
30
0
30
30
0
136
4
23
Estefano Rivera
20
0
4
DNF
40
40
0
16
120
5
77
Basti Escalante
6
10
DNF
0
16
8
20
30
90
6
15
Bobby Domingo
0
0
24
16
24
24
0
0
88
7
87
Raymond Ronquillo
2
3
8
12
4
20
24
6
79
8
17
Luis Gono
3
6
16
8
8
12
12
0
65
9
25
Dominic Ochoa
8
4
12
20
0
DNS
0
12
56
10
28
Pauland Dumlao
15
20
6
0
12
0
0
0
53
11
11
Carlos Loinaz
0
DNF
0
4
0
4
0
40
48
12
42
Jette Calderon
0
0
2
6
0
DNS
2
8
18
13
33
Tonton Ramos
0
0
0
0
2
6
4
0
12
14
78
Victor Buensuceso
1
2
0
0
0
0
8
0
11
15
27
Ramon Tanjuatco
0
0
0
0
0
0
6
4
10
16
55
Bryan Co
0
0
0
2
6
0
0
0
8
17
70
Sean Velasco
0
0
DNF
0
DQ
2
0
0
2
17
67
Arthur De Jong
0
0
0
0
0
0
0
2
2
19
41
Steve Bicknell
0
1
0
0
0
0
0
0
1
-
99
Charlie Cojuangco
0
0
NR
NR
0
0
0
0
0
-
88
Robert Lilles
0
0
0
0
0
0
0
0
0
-
38
Paolo Rodriquez
0
0
0
0
0
0
0
0
0
-
31
Miko Maristela
0
0
0
0
0
0
0
0
0
-
43
Lord Seno
0
0
0
0
0
0
0
0
0
-
24
JV Ejercito
0
0
DNF
0
0
0
0
0
0
-
96
Miguel Diaz
0
0
DNF
DNF
0
0
0
0
0
-
94
Alexis Salvador
0
DNS
0
0
0
0
0
0
0
2015 Vios Cup (Promotional Class)
Pos
Car no.
Name
Leg 1
Leg 2
Leg 3
Leg 4
Total
Race 1
Race 2
Race 1
Race 2
Race 1
Race 2
Race 1
Race 2
1
96
Miguel Diaz
20
20
0
0
40
40
20
0
140
2
85
Paolo Rodriguez
0
0
40
40
20
16
8
12
136
3
43
Lord Seno
0
0
0
0
30
12
40
40
122
4
31
Miko Maristela
0
0
20
16
DNF
DNS
30
30
96
5
80
Oscar Suarez
0
0
30
20
8
8
6
20
92
6
24
JV Ejercito
15
DNF
0
0
16
20
0
0
51
7
67
Arthur De Jong
DQ
12
24
12
0
0
0
0
48
8
41
Steve Bicknell
0
0
16
30
0
0
0
0
46
9
99
Danilo Cruz
0
0
0
2
0
0
16
24
42
10
3
Michinobu Sugata
1
4
6
0
6
24
0
0
41
11
44
Ferdinand Dysico
0
0
12
24
0
0
2
2
40
12
68
Bombi Pallilio
6
10
8
8
DNF
DNS
0
0
32
13
35
Sherwin Hing
0
8
2
6
12
2
0
0
30
13
63
Edwin Yu Lee
0
0
0
0
24
6
0
0
30
13
94
Alexis Salvador
0
0
0
0
0
30
0
0
30
16
21
Jeje Villena
8
DNF
0
4
4
0
4
8
28
16
78
Ferdie Santos
0
0
0
0
0
0
12
16
28
18
33
Tonton Ramos
10
15
0
0
0
0
0
0
25
19
53
Kiko Dysico
0
0
0
0
0
0
24
0
24
20
44
Alfie Concepcion
12
2
NR
NR
0
0
0
0
14
21
19
J. Nolasco/O. Nuke
4
DNF
NR
NR
DNF
0
0
6
10
22
69
Roy Bunag
3
6
0
0
0
0
0
0
9
23
96
Bobby Pangilinan
0
0
0
0
2
4
0
0
6
24
22
Tomohiro Iwamoto
2
3
0
DNS
0
0
0
0
5
25
84
En Sta Roma
0
0
4
0
0
0
0
0
4
25
16
Dimple Napat
0
0
0
0
0
DNF
0
4
4
-
88
Robert Lilles
0
0
0
0
0
0
0
0
0
2015 Vios Cup (Celebrity Class)
Pos
Car no.
Name
Leg 1
Leg 2
Leg 3
Leg 4
Total
Race 1
Race 2
Race 1
Race 2
Race 1
Race 2
Race 1
Race 2
1
10
Sam YG
6
20
40
40
DNF
40
40
40
226
2
12
Phoemela Baranda
20
15
24
24
40
30
24
30
207
3
6
Jinno Rufino
4
12
20
20
30
24
30
24
164
4
14
Derek Ramsey
12
NR
30
30
NR
NR
20
16
108
5
7
Joyce Pring
15
8
NR
NR
20
20
16
12
91
6
5
Fabio Ide
0
0
16
16
24
DNF
0
0
56
7
2
Jasmine Smith
10
6
DNF
DNS
DNF
DNS
12
20
48
8
4
Kylie Padilla
8
4
DNF
DNF
DNF
DNS
8
8
28
9
8
Rhian Ramos
DNF
10
NR
NR
NR
NR
0
0
10