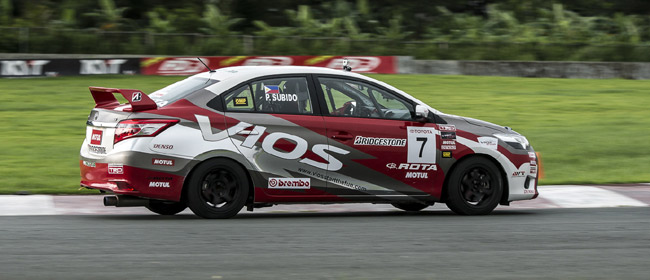 During last week's 2014 Vios Cup practice session at Clark International Speedway, a mock 20-lap race was held to simulate what it would be like to be out there on the McKinley West street circuit this weekend.
After launching from the starting grid, it was a mad rush that funneled into a very tight first-gear hairpin. My car was rammed from behind, making me slam into the rear of the car in front of me. I kind of freaked out because this was a new experience for me. Nevertheless, I knew that it was all part of the game. So, I pressed on and pushed harder.
Now, the course was laid out with cones, and the rule was that if we managed to hit any cones, we would be ejected from the mock race. This was because each of the cones represented a concrete or steel barrier. If at any point in the actual race your car goes off course, you will be pulled out as well.
This made sense, because the actual street course has no run-off area. At best, hitting a wall will only result in cosmetic damage, but it is more likely that the expensive TRD suspension components will be destroyed and the car will be unable to finish the race.
Continue reading below ↓
Recommended Videos
On my second lap, I clipped a cone at the entrance to the chicane. Oh, no. I was out of the race. Had it been the real entrance of the chicane--marked off by concrete barriers--my beloved Vios Cup car would have been wrecked. Not good.
The experience from this 20-lap mock race--even if it only lasted two laps for me--was invaluable. I learned right away how costly mistakes will be in the final round. I came away with these lessons:
1. Keep it cool. When the red lights go off at the starting line, it might be a good idea to not go charging into the first corner with guns blazing. There will be plenty of jostling, of course, but making it through unscathed will be the priority here.
2. Haste makes waste. The reason I clipped the entrance to the chicane was because I decided to brake super late. This was a stupid mistake, really, all because I wanted to catch up to the front-runners immediately. There would have been an opportunity to reach them later on, or at least I would like to think so.
3. It sucks to watch the race from the pit wall. Sitting there while the remaining 17 laps unfolded and wishing I was still dicing it out with the other drivers was tough. It was a reminder to be smart and not ignore the driving techniques taught us by the instructors. The fact that I wasn't the only driver removed from the race is a testament to the difficulty of the course. Crowd favorite Phoemela Barranda went off as well, and so did Jinno Rufino. Believe me, it will get crazy out there.
4. Preserve the car throughout the race weekend. There will be a number of practice sessions and a qualifying shoot-out before the big races on Sunday. Making sure that my car makes it to the starting line is essential. Preserving the tires and the transmission is the goal here. The Vios Cup car is pretty tough, but it will see plenty of abuse. There are three very tight first-gear hairpins on the course. How well I care for my car before the race will play a part in how competitive I will be during game time.
5. Have fun. There's a lot of pressure because of the very talented drivers on the grid, so sometimes it is easy to forget how lucky I am to be in this race in the first place. I will drive my best, of course. But if there is one thing I've learned, lap times are faster when you are relaxed and are having fun.
Anything can happen come race day. Let me tell you: It's going to be wild. You don't want to miss what will surely be an action-packed event. I personally can't wait to see how the faster drivers are going to fare.
The final round of the Vios Cup will be held at McKinley West in Bonifacio Global City, Taguig, on October 18 and 19. Admission is free. You don't want to miss it. It will be a waku-doki time.
Photos by Igor Maminta