Recently, Mazda Philippines launched the ND Miata Spec Racer and announced an upcoming one-make race called the Miata Spec Series organized by RaceGAS Dynamics. Steven Tan, president of exclusive local Mazda distributor Bermaz Auto Philippines, personally presented the car at the Clark International Speedway on November 10, and explained the mechanics of the championship to members of the motoring media and racing enthusiasts.
Initially, eight 2019 Miata units—modified and outfitted for racing—will be available for P2,500,000 each. These cars will then be the basis of a special one-make series that will commence its first season in May 2020.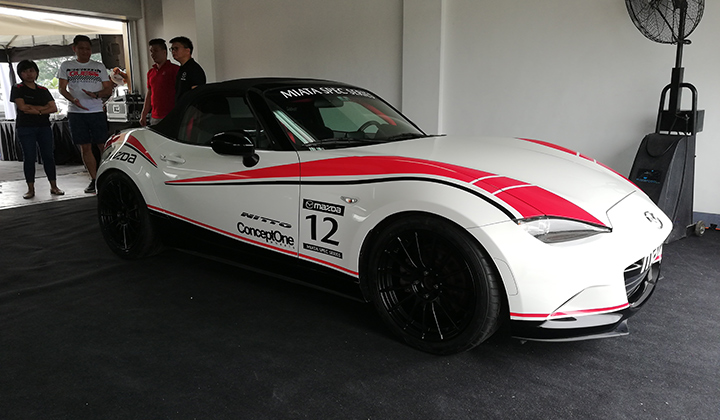 Continue reading below ↓
Recommended Videos
The idea behind this is to make racing affordable and sustainable for all who wish to learn and enjoy. The ND Miata Spec Racer can be financed just like any new car. All the stock parts that have been replaced with racing components are given to the buyer, who can then revert the race car back to stock anytime. It can be registered for street use and, as such, can be driven daily.
Also, the Miata Spec Series races will be held on the same Sunday as the Miata Cup races, but on a separate grid. The ND Miata Spec Racer will be eligible to participate in the Miata Cup as well in as other races.
The ND Miata Spec Racer starts out as a stock 2019 ND MX-5. Mazda Philippines modifies it with the following parts for racing:
Cusco Street coilover suspension
Cusco front and rear sway bars
Cusco power brace
Sparco race seat
Sparco racing safety harness
Sparco kill switch
Sparco tow harness
Sparco steering wheel
Custom foot plates
Custom catback exhaust
Mazdaspeed strut-tower brace
Stainless-steel braided brake lines
Concept One wheels
Nitto racing tires
The series will have four races in 2020, and will have an entry fee of P40,000 on top of the cost of the car.
The Miata Spec Series will be a welcome addition to the vibrant and growing motorsports scene in our country. Most of the racing we've seen here involves sedans. This new series will be using genuine sports cars, wutg the Miata being generally regarded as one of the best sports cars in the world.
It looks like we'll have some exciting local racing next year!