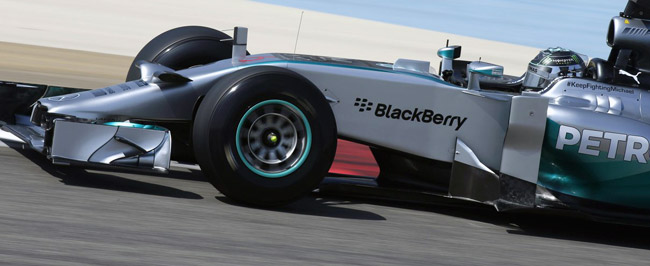 The second Formula 1 preseason test for 2014, held in Bahrain from February 19 to 22, continued to strengthen the impression that Mercedes currently has the best power unit among the three engine suppliers, and that the works team is taking full advantage of this.
Nico Rosberg registered the fastest time of all the drivers who participated in the four-day test, doing 1:33.283 with the F1 W05 in qualifying trim. The next four cars on the timesheet all bear Mercedes propulsion. What's more, the customer teams enjoyed decent reliability and high mileage. In total, the four Mercedes-powered teams (Mercedes, McLaren, Force India and Williams) racked up 2,002 laps over two preseason tests. That's twice more than Ferrari's 1,000 laps, although there are only three Ferrari-powered squads (Ferrari, Sauber and Marussia) on the grid.
Ferrari's Fernando Alonso and Kimi Raikkonen were quietly in the mix, the former setting the fifth fastest time in Bahrain on Day 2. Telemetry issues marred Raikkonen's run on Day 3, but he was able to set the sixth fastest time in Bahrain on Day 4, before crashing out with five minutes to go.
Crash notwithstanding, his testing stint was much better than those of the two Red Bull drivers. The champion squad's preseason preparations continued to be patchy, and while reigning champion Sebastian Vettel accomplished 58 laps on Day 2, the RB10 suffered from a spate of issues--on both constructor and power-unit sides--throughout the four days. Lotus set the best time--good only for 13th--of the four Renault-powered teams, but its run was blighted by a number of stoppage-causing issues as well.
Continue reading below ↓
Recommended Videos
Following are the number of laps accomplished by each team so far during the preseason (Jerez and Bahrain): Mercedes, 624; McLaren, 541; Ferrari, 538; Williams, 498; Sauber, 403; Force India, 359; Caterham, 329; Toro Rosso, 193; Red Bull, 137; Lotus, 111; Marussia, 59.
The final Formula 1 preseason test will take place this week from February 27 to March 2, also in Bahrain.