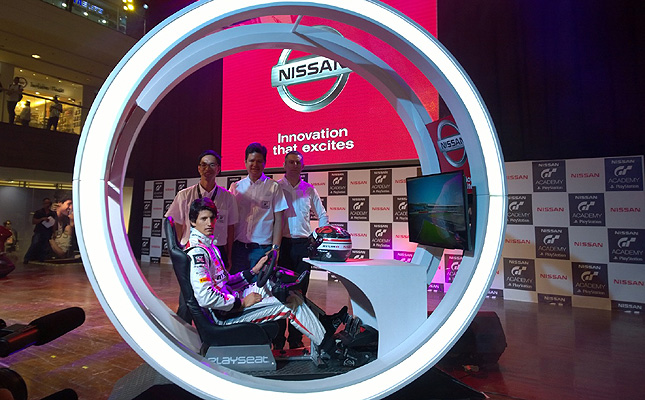 The Nissan GT Academy has officially landed on our shores, with Nissan Philippines launching the virtual-to-reality contest today. To highlight the event, Nissan flew in 2014 GT Academy International champion Ricardo Sanchez.
Now in its seventh year, the Nissan GT Academy has expanded with the new GT Academy Asia, which will see the top candidates from the Philippines going up against competitors from other Asian countries (including Japan) to become the overall champion.
The first stage will begin in April and run until June, with the players doing timed laps on a virtual racetrack behind the wheel of the GT Academy simulator pods. Nissan Philippines will be taking the pods around the country, giving hopeful enthusiasts from Luzon to Mindanao the chance to vie for one of 20 spots.
For the second stage, which is scheduled to take place in July, the 20 players will be whittled down to the top six, who will then go up against the top Gran Turismo 6 drivers in Asia for the third stage come August.
ADVERTISEMENT - CONTINUE READING BELOW ↓
To be held at the Silverstone Racing Circuit in the United Kingdom, the drivers will undergo physical and mental challenges, and have their driving skills tested by going behind the wheel of different types of race cars. It is at this stage that the GT Academy champion for Asia will be determined.
For the fourth stage, which will run from September 2015 to January 2016, the Asian champion will join GT Academy winners from other regions and undergo a rigorous training regimen under the guidance of professional race car drivers and coaches still at the Silverstone Racing Circuit.
Once the drivers pass the driver development program, they will receive their international C license, which makes them eligible to compete in racing events all over the world. Of course, the driver that tops the program will be named the 2015 Nissan GT Academy's overall champion. And to cap his/her victory, he/she will take part in the Dubai 24-Hour race in January 2016.
ADVERTISEMENT - CONTINUE READING BELOW ↓
Recommended Videos
Nissan Philippines will post the schedule of events for the first stage of the GT Academy on its Facebook page. To qualify, contestants must be at least 18 years old and possess a valid driver's license. Contestants must also undergo a physical screening and be in good health to be eligible to take part in the second stage. For the third stage, participants must have a valid passport and be able to travel internationally.
"With the launch of the GT Academy in the Philippines, we at Nissan offer an exciting opportunity for Filipinos to emerge as a breakthrough talent in the racing world," said Nissan Philippines president and managing director Antonio Zara. "Let the virtual race begin!"
Photo by Mikko David