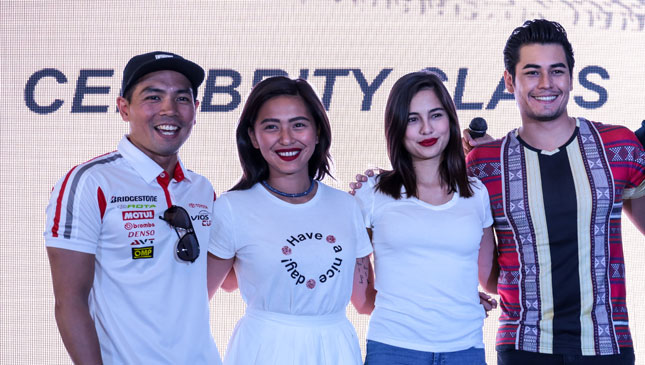 If you haven't seen a Toyota Vios Cup race yet, you're actually missing out. Over the past two years that the one-make racing series has been held, so much tension, suspense and excitement have happened. And that's not including all the scrambling for photos with Sam YG and Joyce Pring.
This month, Toyota Motor Philippines ushers in the new season of waku-doki racing by holding a press conference for the 2016 Vios Cup season. It will be the biggest in terms of drivers and race cars, with 45 individual teams and 10 celebrity racers. So expect a total of 55 participants battling it on the tracks.
Making things more exciting is a new Super Sporting Class on top of the previous two-class tiers. This new category will be for the top 20 drivers from all divisions based on scores from previous races. With all the racing talent in one group, expect fierce competition and exciting wheel-to-wheel action in this class.
Providing thrills of a slightly different kind are the celebrity drivers. The call of the track proved too enticing for returnees Derek Ramsey, Fabio Ide, Jinno Rufino, Phoemela Baranda, Joyce Pring, Jasmine Curtis-Smith and 2015 Celebrity Promotional Class champ Sam YG. They will be joined by celeb newcomers Arci Muñoz, Megan Young and Jericho Rosales.
Continue reading below ↓
Recommended Videos
TMP president Satoru Suzuki--who recently succeeded Michinobu Sugata, the "father" of the Vios Cup--was on hand to personally kick off the new season.
"From heart-stopping legs to the largest grid in Philippine racing, we believe Toyota has created an impact in local motorsports," Suzuki said. "Even our friends from the media acknowledged our efforts with several recognitions awarded to TMP last year."
Modesty aside, we believe Suzuki-san was referring to last year's Stig Awards, where we recognized Toyota's efforts in the motorsports arena.
Anyway, the first leg of the 2016 Vios Cup will be held in less than two weeks at Clark International Speedway. The exact date is March 19 (Saturday), with qualifying to be held on March 18 (Friday). As usual, admission is free, and believe us when we tell you that you'll have a fair chance of getting a selfie with Jasmine Curtis-Smith.
Photos by Mark Jesalva