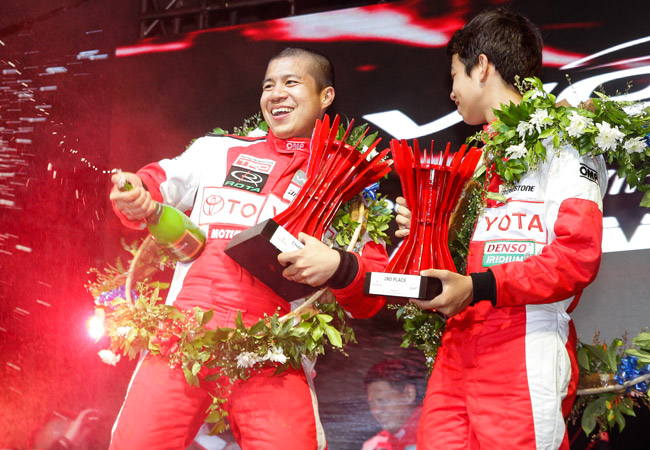 If you think the 2014 Vios Cup is a Mickey Mouse one-make race series just because it features a subcompact sedan, what happened today at Clark International Speedway during the qualifying session of the second leg should make you think again. Before the start of qualifying--held to determine the grid positions for the main race tomorrow, July 26--a scuffle took place between series points leader Jason Choachuy (in the photo, left) and a supporter of teenage wonder Luis Gono (in the photo, right), who currently lies in third place in the championship standings.
According to a witness, who is one of the top performers during the first leg and who requested not to be named, the fight started when Choachuy got into a heated argument with former race driver Mike Anton, who was in the garage of Gono at the time. Our source says Anton had asked Choachuy to leave when the latter strayed near Gono's garage. The verbal argument led to some shoving, our source narrates, after which Choachuy threw a bottle of mineral water at Anton. Anton then charged toward Choachuy, and a physical fight ensued.
The animosity between the two had taken root during the Vios Cup's first leg, when Gono's camp accused Choachuy of brake-testing Gono, causing the latter to hit the former's car at some crucial corners of the track. Choachuy's camp, on the other hand, asserted that it was the young Gono who had not been driving a clean race.
Continue reading below ↓
Recommended Videos
Despite the injuries he sustained from the fistfight with Anton, Choachuy proceeded to take second place in qualifying, behind only Carlos Castañeda. Which means Choachuy will line up at the front row of the grid for tomorrow's first race. Gono qualified in fourth place, behind Andres Calma.
Meanwhile, an executive of Toyota Motor Philippines has assured TopGear.com.ph that the incident was merely a "misunderstanding," and that "everything is under control."
"It's unfortunate that this took place, but we'd like to assure everyone that it won't happen again," promises the TMP boss, who also asked not to be named. "Safety remains to be our number one priority, and we won't allow issues like this to compromise the competition on the racetrack."
Everyone agrees that the Vios Cup is a huge success, and that it has played a major role in reviving Philippine motorsports. It will be truly sad if our (Filipinos, that is) inability to set aside our personal differences ends up ruining the series. Then again, knowing how heavily invested Toyota Motor Philippines is in this project, we expect things to be patched up quickly and to go back to normal like nothing happened.
The upside, of course, is that the two races tomorrow will be very exciting. The first race is scheduled at 2pm, and the second race is set for 4pm. Be sure not to miss them. See you there!