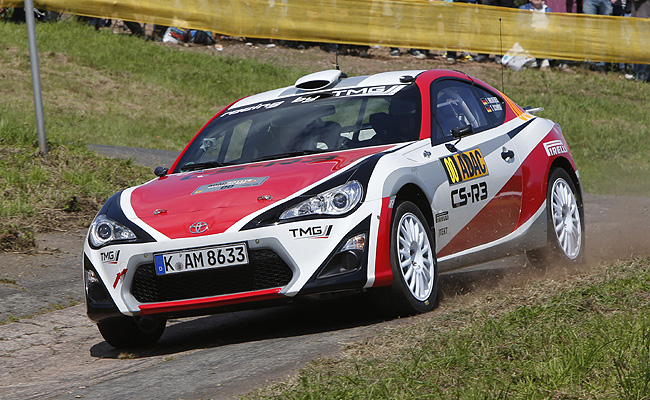 Toyota Motorsport GmbH has completed the shakedown of its 86-based CS-R3 rally car at Rallye Deutschland, taking a major step forward in the car's development.
The prototype rear-wheel-drive rally car took part in the 1,300km event as the "pathfinder" zero car and was driven by former rally driver Isolde Holderied.
According to Toyota, the experience gained at Rally Deutschland will contribute to finalizing the specifications of the car, which will be delivered to customers in the first quarter of 2015, "after homologation in the FIA's R3 category is achieved." The price of the car is reportedly 79,000 euros (P4.5 million) if an order is placed before January 31, 2015. After that date, the CS-R3 will be priced at 84,000 euros (P4.8 million).
As we reported about the Toyota 86-based rally car earlier this month, it will come with all the essential elements needed to compete in rally racing, from updates to the drivetrain to a bodyshell with a built-in safety cage. An option list for the car will also be released "in the coming weeks."
ADVERTISEMENT - CONTINUE READING BELOW ↓
"Overall, it has been a very positive experience for us and an important step in the development of the CS-R3," said Toyota Motorsport's principal engineer for customer motorsport Nico Ehlert. "The car on Rallye Deutschland was a first prototype so we expected some challenges, but I am pleased to say the weekend was smoother than expected. Being in an environment where time is limited and the pressure is high, gave us the chance to understand not only the performance of the car but also its operational needs. We have found a few areas to improve both in terms of technical performance and service park handling."
ADVERTISEMENT - CONTINUE READING BELOW ↓
Recommended Videos