If you're a fan of Toyota Motor Philippines' (TMP) Vios Racing Festival (VRF), then boy do we have good news for you: TMP will make Vios One Make Race (OMR) car units available for sale to the public.
These racing-spec models of Toyota's famous sedan can be had for P1,400,000 in all Toyota dealerships nationwide. It seems a bit hefty for a Vios, we know, then again these models are anything but ordinary. These OMR units are virtually identical to those used in this year's VRF, packing a 1.5-liter engine under its hood. This powertrain is mated to a five-speed manual transmission and is capable of producing 106hp and 140Nm of torque.
"Wait, aren't those outputs the same as the numbers of the current Vios 1.5 G variant?" Well, to be fair, yes, but what makes these OMR cars different are the standard safety features for track racing that have been added to them. For starters, TRD aero kits, bucket seats with seat brackets, and a six-point seatbelt have installed. Other modifications include a clutch cover, clutch disk, sport brake pad, limited slip differential, suspension set, roll cage, muffler set, hood lock pin, and intake system, among others.
Of course, it wouldn't be a true Vios racecar without looking the part, right? Not to worry, because body decals and alloy wheels have also been added to the package.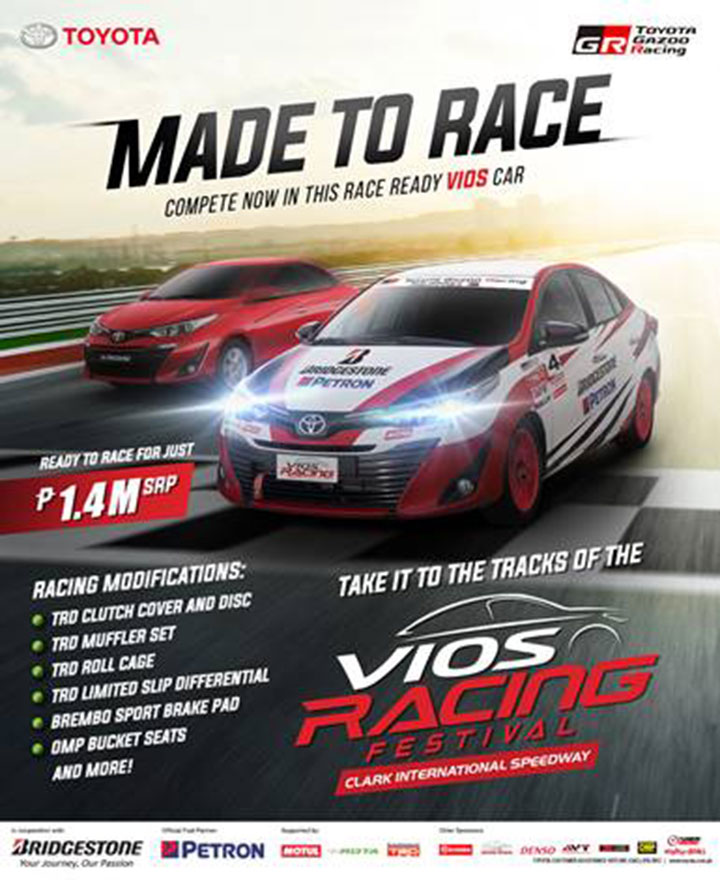 The biggest catch here, however, is the chance to compete at the upcoming races. Any purchase of a Vios OMR unit will enlist its buyer to race at the VRF this November and compete in the Promotional Class. On the other hand, those who opt to buy any unit after the 2019 racing season ends will be required to race for the 2020 season.
"By making the Vios OMR available to the public, Toyota is helping to promote the grassroots motorsports scene by making it a more inclusive sport for all racing fans," said TMP first vice president Cristina Arevalo. "This new generation of the Vios race car is a good entry point to the world of motorsports because of its signature quality, durability, and reliability. Instead of simply being spectators, future owners are encouraged to enroll at the Toyota Racing School and participate in the upcoming legs of our Vios Racing Festival series."
If you've been wanting to experience some of that waku-doki action yourself, then now might be your best chance to have a go at it. See you in the next legs of the race?