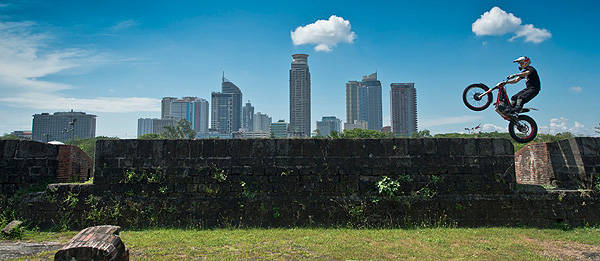 Red Bull has officially arrived in the Philippines, and to kick-start its entry into our market, the energy-drink brand flew in some of the extreme sports athletes it sponsors to do their thing here.
As you already know, American Formula Drift champion Rhys Millen was here last week to drift a Nissan Silvia S13 around jeepneys in Luneta. We even managed to spend some time with him to do a brief interview for both the website and the magazine.
Little did we know though that Red Bull's extreme-sports assault on the Philippines wasn't just limited to drifting as it also brought in popular motorcycle-trials rider Julien Dupont. Like Millen, Dupont showcased his skills at some of Manila's landmarks by having his motorcycle go over the walls of Intramuros and on top of a jeepney as well.
Red Bull also brought in its Red Bull Air Force Team with the locals and tourists of Boracay being the very first in the country to witness their wing-suit flying skills, the same skills they displayed in the flight action scenes in the third Transformers movie. Multiple world champion cliff diver Orlando Duque was also here to promote the energy-drink brand by showing off his expertise in El Nido.
Continue reading below ↓
Recommended Videos
If you're wondering why Red Bull is launching its energy drink in the Philippines when the name has been around since the 1990s, that's because they are apparently not directly related to one another.
"We're launching Red Bull in the Philippines for the first time, and for us it's the 165th country that we're going to be in," said Cheryl Tan, communications manager for Red Bull Singapore. Asked what makes the canned Red Bull different from the ones sold in small, amber bottles, she clarified that these are two separate and distinct brands and products.
"We'd like to clear up that the other Red Bull is a different company from ours," Tan added. "Ours are in blue-and-silver cans and every single one is produced in Austria and exported out. The other one is of Thai origin. We're the brand that Rhys and all the other famous athletes work with."
We figure it's the 'Made in Austria' part that justifies its P98 price tag at the Ministop outlet in our office building.
Anyway, check out the videos to see for yourself what Red Bull's extreme athletes find as being "more fun in the Philippines."
If you're viewing this on a mobile device and can't see the video, please click here.
If you're viewing this on a mobile device and can't see the video, please click here.
If you're viewing this on a mobile device and can't see the video, please click here.