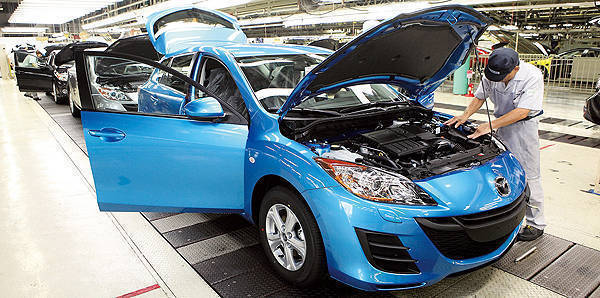 Mazda Philippines has ended the production of the current-generation Mazda 3 at Ford Group Philippines' Santa Rosa, Laguna, plant in preparation for the local launch of the second-generation model later this year. The problem, however, is that the new Mazda 3 won't be assembled in the Philippines anymore.
This was revealed by Anika Salceda-Wycoco, Ford Group Philippines' assistant vice president for communications, who added that more information on the new Mazda 3--including where the Philippine market model will be sourced from--will be made available "closer to launch."
Despite the cessation of the first-generation Mazda 3's production at the Santa Rosa plant, the facility will still continue to churn out the current-generation Ford Focus and Escape for the local market. However, this means the Philippines no longer has a car manufacturer and assembler that exports its products outside of the country, a role which Ford Group Philippines once fulfilled.
"Our manufacturing operations will continue in 2012 with the current Focus and Escape," clarified Salceda-Wycoco. "With the shift in production of the all-new Focus to Thailand later this year, we continue to study new product program opportunities for the Philippines as part of our regional growth plan."
With the second-generation Mazda 3 now being produced in Thailand and with the production of the third-generation Ford Focus scheduled to begin in the same country later this year, it certainly looks like that's where we'll be getting these cars from.
Continue reading below ↓
Recommended Videos
Let's hope that Ford can still find a way to make use of the Santa Rosa plant for employment's sake. Perhaps it can be used to assemble the next-generation Escape or even the production version of the EcoSport. Do you have any bright ideas on what Ford can use the facility for in the near future?
UPDATE: According to Ford Group Philippines, the current-generation Focus and Escape will still be exported to other markets.