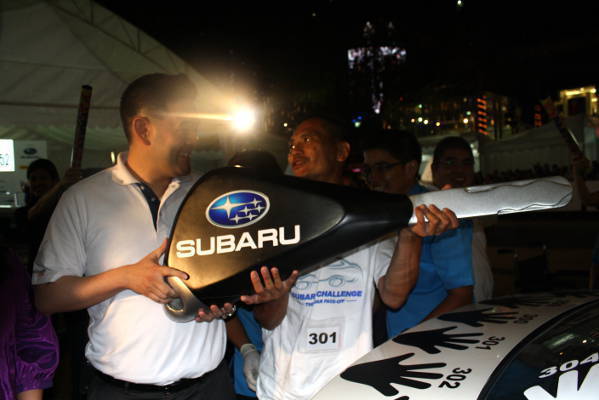 Four days after the kick-off of the 2012 Subaru Challenge: The Asian Face-Off, three-time contestant Gan Yu Shen Tholmas of Singapore was awarded the grand prize of the endurance challenge. He received a brand-new Subaru XV for enduring the heat, the rain, the thirst, the hunger and the sleep deprivation.
Lasting a total of 78 hours, 30 minutes and 52 seconds, the 42-year-old software engineer now holds the second-longest winning time in the 11-year history of the contest held annually at Singapore's Ngee Ann City Civic Plaza. Tan Chong International executive director Glenn Tan and MediaCorp vice president Dahlia Z presented the award to Tholmas amid confetti and wild cheers, thus concluding this year's edition of the mental and physical challenge for a chance to own a brand-new Subaru.
The runner-up, 47-year-old catering officer G Jaishanker, also of Singapore, received SG$5,000 (about P169,000).
The "Country Winner" awards went to the last representative of each participating regional country: Malaysia, Indonesia, Hong Kong, Thailand, Taiwan, Vietnam, Cambodia, China and the Philippines. Four-time finalist Alex Neblasca won the Philippines' Country Winner title for the second time by holding onto his designated spot on the Impreza for 64 hours. A cramping left calf muscle forced Neblasca to raise the white flag and give up on his goal of beating his personal record of 69 hours, which he attained last year. Neblasca was awarded SG$1,000 (about P33,800) for winning the title.
Continue reading below ↓
Recommended Videos
Samach Tepsen of Thailand received SG$5,000 (about P169,000) for being the last regional contestant standing, thus bagging the title of Asian Winner.
The Vietnam contingent won the "Team Country Winner" title for having the longest combined standing time of 761 hours and 24 minutes. This group effort earned them SG$10,000 (about P338,000). "We made a pact to stay in the competition for at least 50 hours," said Vu Linh, one of the Vietnamese contestants.
Would you like to try and give it a shot next year?