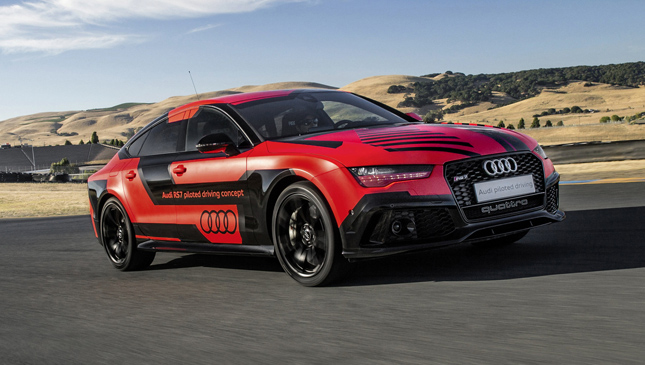 Do you ever wish that you could put your car into autopilot, and let it take over the driving while you sit back and relax? While driving enjoyment is tops among many car enthusiasts, the reality is that there are times when letting someone else take the wheel is a tempting proposition--especially with Metro Manila's horrendous traffic.
Well, our wish might just become a reality soon.
If Audi had its way, it would let the car do the driving. At least that's how things are shaping up to be, what with the numerous tests being done by the German automaker lately. Its piloted driving system involves letting a new-generation RS7 loose on the racetrack...minus the driver. The RS7 piloted-drive concept vehicle did a few hot laps at California's Sonoma Raceway with pretty interesting results.
The car looks like a regular, sporty RS7 from the outside. It even packs the same TFSI V6 engine that produces 560hp. The only difference the concept vehicle has from a regular version is that the former went around the 4,050m track by itself in a quick 2:01.01 minutes. According to Audi, that's quite fast for a car without a pilot, and is at par with cars that are driven by a human being.
Continue reading below ↓
Recommended Videos
All this is part of Audi's quest to perfect various systems of its piloted drive technology. It aims to make sure that steering, braking, sensors and the entire driver assistance network are up to speed with the rigors of everyday motoring. This isn't the first test Audi has conducted for this sort of tech. Back in October of 2014, it put a first-generation RS7 around the Hockenheim track in Germany, reaching speeds of up to 240kph.
At the start of this year, "Jack," a driverless A7 concept vehicle, also drove itself from Silicon Valley to Las Vegas to make an appearance at the Consumer Electronics Show (CES). It did so, by the way, in moving, everyday traffic. Finally, Audi let loose another autonomous vehicle on the German autobahn, which went up to some 130kph, while the streets of Shanghai in China were host to another piloted-drive test unit during CES Asia held there in May.
With "Robby," the latest RS7 equipped with piloted driving tech, having completed its testing at Sonoma, Audi is another step closer to introducing driverless cars. In fact, it will be doing just that via the upcoming next-generation A8. If this kind of technology ever makes it to our market, we're optimistic these self-driving vehicles will have better road manners than many Pinoy drivers out there.