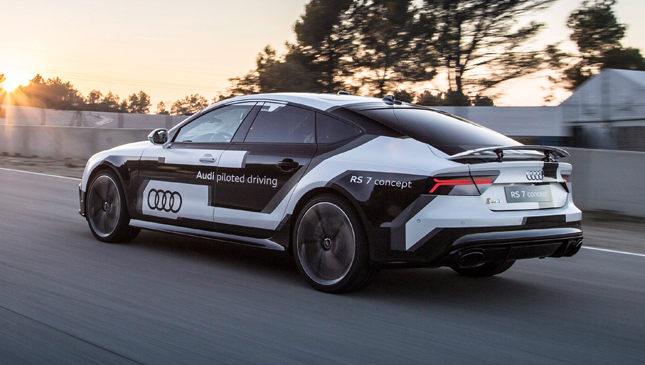 Audi has been hard at work testing its self-driving or autonomous cars for quite some time now. We even reported that this piece of technology--known as piloted driving in Audi-speak--will soon be making it into production via the next-generation A8. But before the tech hits dealerships, Audi's self-driving cars first hit the racetrack.
An Audi RS7 with piloted driving recently took motoring journalists for a ride around the 4.2km FAST Parcmotor track close to Barcelona in Spain. Moreover, the high-tech RS7 did the fully automated lap in 2:07.67 minutes (its best time on the track). Again, there was no human intervention--just the car and its various sensors doing the work around the course.
The autonomous run around the Spanish circuit is just another step toward deploying cars that can be set to autopilot in the event that the driver feels tired or simply wants to take a break.
Back in October 2014, "Bobby," an RS7 with piloted driving, completed a lap around Hockenheim in Germany, at speeds of up to 240kph. If you recall, we likewise featured "Robby," a current-gen RS7 that did a few hot laps around California's Sonoma Raceway last July. The car looks like a regular RS7, even packing the same 4.0-liter TFSI engine that puts out 560hp. The only difference is that this particular version didn't have a driver--and still managed to put in a best time of 2:01.01 minutes around the American race circuit.
Continue reading below ↓
Recommended Videos
Apart from the racetrack, Audi has likewise demonstrated the piloted driving system's capabilities in real-world conditions. Earlier this year, it let loose "Jack"--an A7 running on its own--on a 900km drive from Silicon Valley to Las Vegas, complete with journalists on-board. The system has likewise been tried on the famous German autobahn, at speeds of up to 130kph, as well as dicing with traffic in Shanghai during this year's Consumer Electronics Show Asia.
All this showing-off is part of Audi's continuing mission of perfecting braking, steering, acceleration and other various driving functions of the car. By letting the car out on different technical tracks and real-world situations, the car learns how to deal with each and every challenge it is faced with. In the end, the carmaker hopes to provide a safe time for the vehicle's occupants, as well as other road-users.
If Audi and other automotive companies keep at it, we may soon see the day when we can ask the car to take over. And still we can feel secure, knowing that various safeguards have been put in place. Until that day, then.