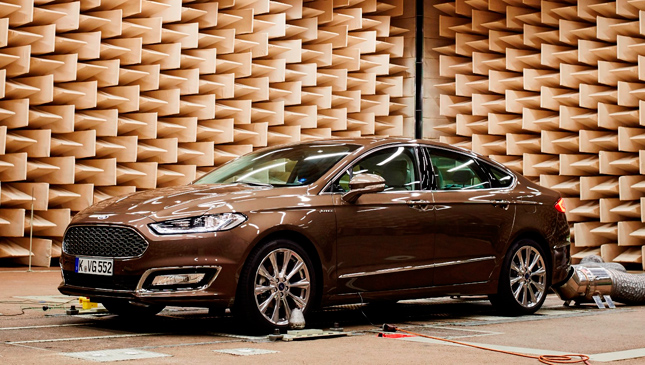 Whether we like it or not, the automobile cabin has become our second home thanks to daily gridlock. Thus, interior comfort has steadily grown in importance for those who brave metropolitan traffic. If the situation isn't APEC levels, sitting in the car actually gives drivers and passengers time to think and reflect. Now, if only cockpits were more quiet, they would be more conducive to introspection.
The answer may lie in a recent Ford innovation. By applying the same technology used in noise-canceling headphones, the American carmaker wants to make in-car time more peaceful.
The feature is called Ford Active Noise Control. It uses three strategically placed microphones to detect undesirable noises from the engine and the transmission, and the system counteracts those noises with opposing sound waves from the audio setup--without affecting volume levels of music and conversation. Active Noise Control even anticipates when a driver is accelerating in a lower gear.
"Whether listening to a favorite playlist, tuning into a much-loved station, or simply enjoying a respite from the demands of modern life, the experience of sound--and just as importantly, silence--can be a fundamental part of an enjoyable car journey," said Dr. Ralf Heinrichs, Noise Vibration Harshness supervisor at Ford of Europe.
Continue reading below ↓
Recommended Videos
We couldn't agree more. For now, Active Noise Control is only available in the European Mondeo Vignale. This large premium sedan has other features that enhance sound quality, like acoustic glass that improves the soundproofing qualities of the windshield and the front windows.
But the Mondeo Vignale's interior silence already began during its development phase. It underwent extensive testing to minimize NVH, and has been built from the ground up to offer an optimum sound experience. Enhancements include using foam rather than fiberglass in engine bay insulation; soundproofing the underbody shields, wheel arch liners, and front and rear doors to block tire noise; and installing the new integral link suspension.
Sony's sound engineers also spent time tuning the Mondeo Vignale's audio system to deliver an "exceptional acoustic experience." The Sony setup is composed of 12 speakers and a Class D digital signal processing amplifier.
Ford says Active Noise Control will appear in its other models, starting with the all-new Edge crossover next year. We hope Ford Philippines brings this in, because we need it more than the other markets do.